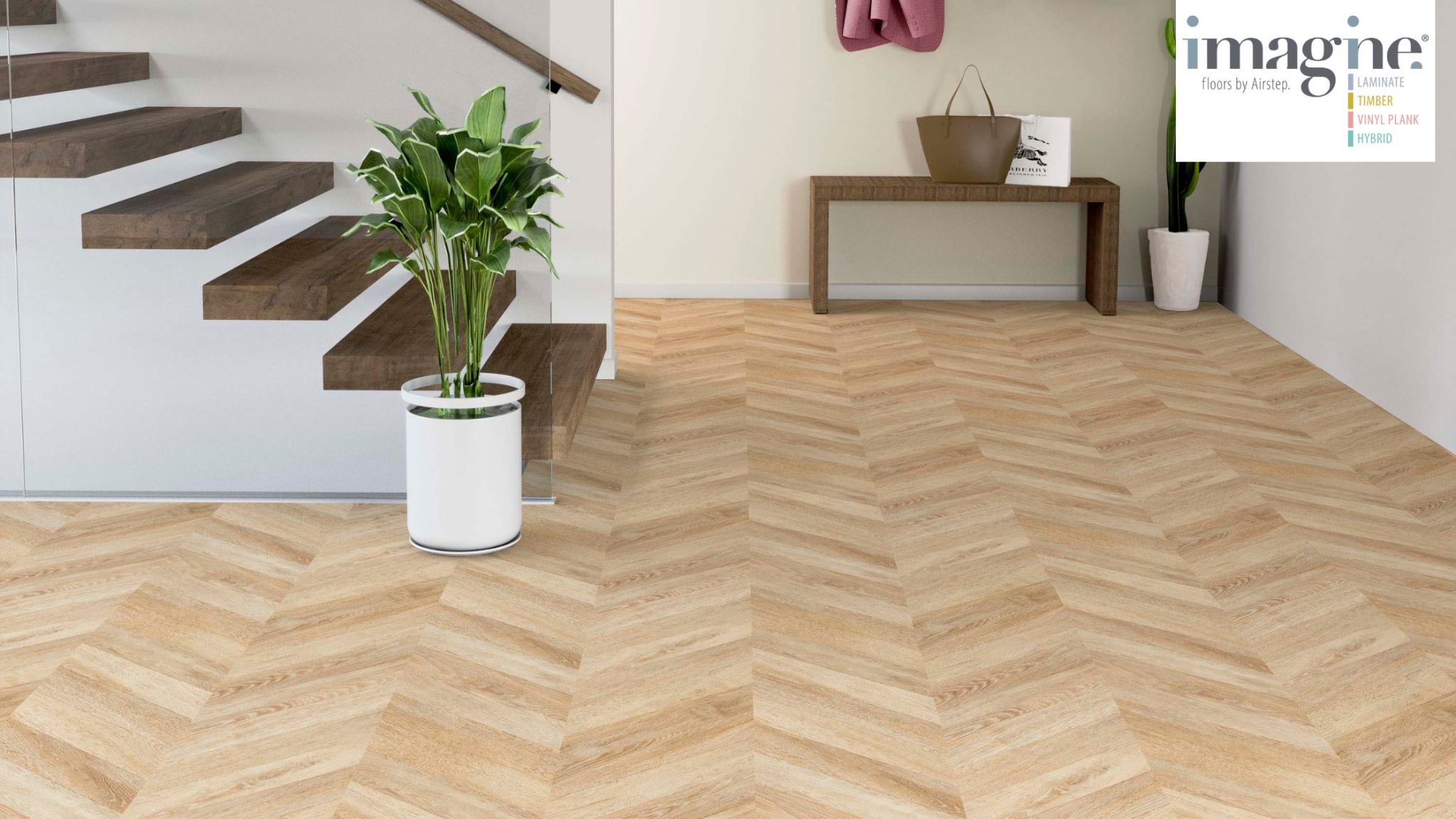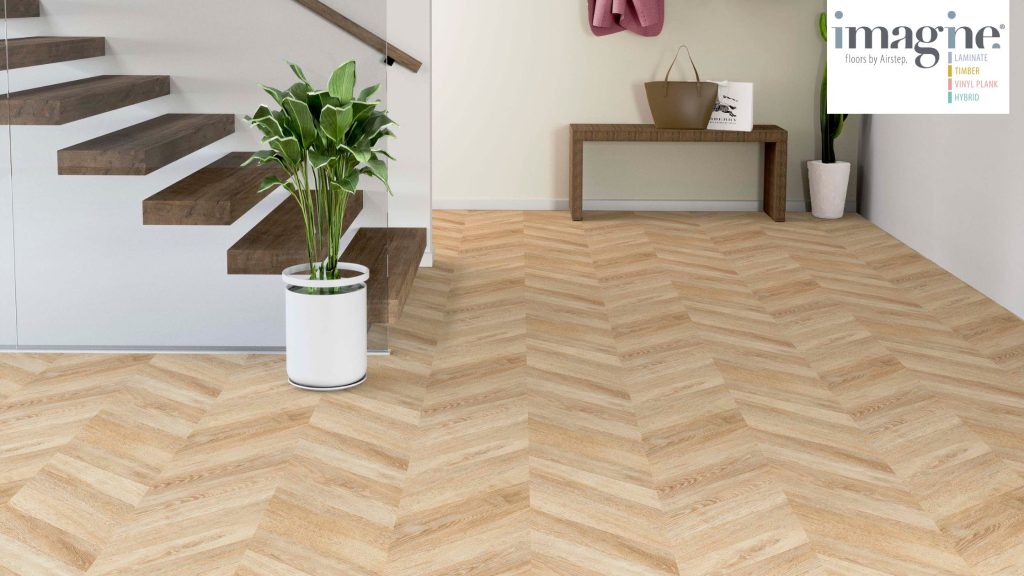 Known for adding elegance to any space that they occupy, Herringbone floors are an eye-catching statement element for your design. Perfect for those looking to add interest to their space without cluttering up their home, Herringbone flooring is seen as a luxurious addition to any interior design.
Because of their popularity, we've been getting quite a few questions about these floors, so we thought we'd put together this handy guide to help you decide whether they're the right option for your home.
What Is Herringbone Flooring?
As shown on the right, Herringbone floors present a collection of peaks in a diagonal manner. As you move along the design, the long end of each piece aligns with the short end of the next to create a zig-zag pattern. This can be achieved with both floorboards and tiles and is most commonly installed in a direct stick manner.
Herringbone Floors VS Chevron
Chevron floors are quite similar to Herringbone one, however, instead of aligning the flat edge of each piece, Chevrons have a corner removed to create a perfectly triangular peak.
Herringbone Flooring VS Parquet
People often ask what the difference is between Herringbone and Parquet, but at the most basic level, they're one and the same. Parquet simply refers to the type of flooring, while Herringbone is the exact design.
Should I Get Herringbone Flooring?
The answer to this question really comes down to your personal preference and ideal design style.
For example, if you're looking to create a Country Chic interior, Herringbone is a great option. It's also perfect for Hamptons homes, and we particularly love the use of Herringbone flooring in entry ways and passages throughout the home, as their pointed nature allows them to easily draw you into a space or lead the way to a highlighted element within your room.
Those wanting a more industrial design, however, would do better to select standard floorboards or even a polished concrete finish. There are also styles, such as minimalism, where Herringbone can be a great addition when carefully considered but requires a good eye for detail and integration with the overall design to really hit the mark.
Is Herringbone Flooring Hard To Lay?
The answer to this question depends on two things:
What you consider hard to lay
If you want a quick and easy installation process that's DIY friendly and simple to smash out, Herringbone flooring probably isn't for you. The exemption to this is our Masterpieces range of Laminate flooring, as although these floors present as Herringbone and Chevron, they are not installed in their pattern.
If you're willing to invest some time and effort into getting things exactly how you want them, however, Herringbone floors aren't that hard to lay.
What type of floor you select
The installation process for a herringbone floor that is crafted from small, intricate pieces, for example, will always be more difficult than laying a design foundation based on larger pieces such as our Luxury Vinyl Planks. As noted above, the process becomes easier again with our Masterpieces Laminate flooring collection, as these Chevron and Herringbone pattern floors sit on large format floorboards.
Does Herringbone Flooring Need Underlay?
The exact answer to this question will depend on the specific flooring that you choose. As a general rule, however, the answer is no if your chosen Herringbone uses a stick down installation method, but yes if you're installing a floating floor.
For example, if you decide to create a Herringbone pattern using one of our Luxury Vinyl Plank flooring options, you could choose to install either Acoustalay or Helix 700 underneath for added acoustic benefits but isn't necessary. If you would rather make use of our Masterpieces collection of Laminate flooring, however, you will need to select an appropriate hard flooring underlay alongside your floors.
Are Herringbone Floors Expensive?
Like any floor, Herringbone flooring can have a rather large difference in pricing depending on your specific choices. Value for money can easily be found by selecting a Laminate option such as our Masterpieces range, or creating your own Herringbone style using Vinyl floors like what has been done with our Naturale Plank 5.0 in the stunning Victor Harbour home showcased below.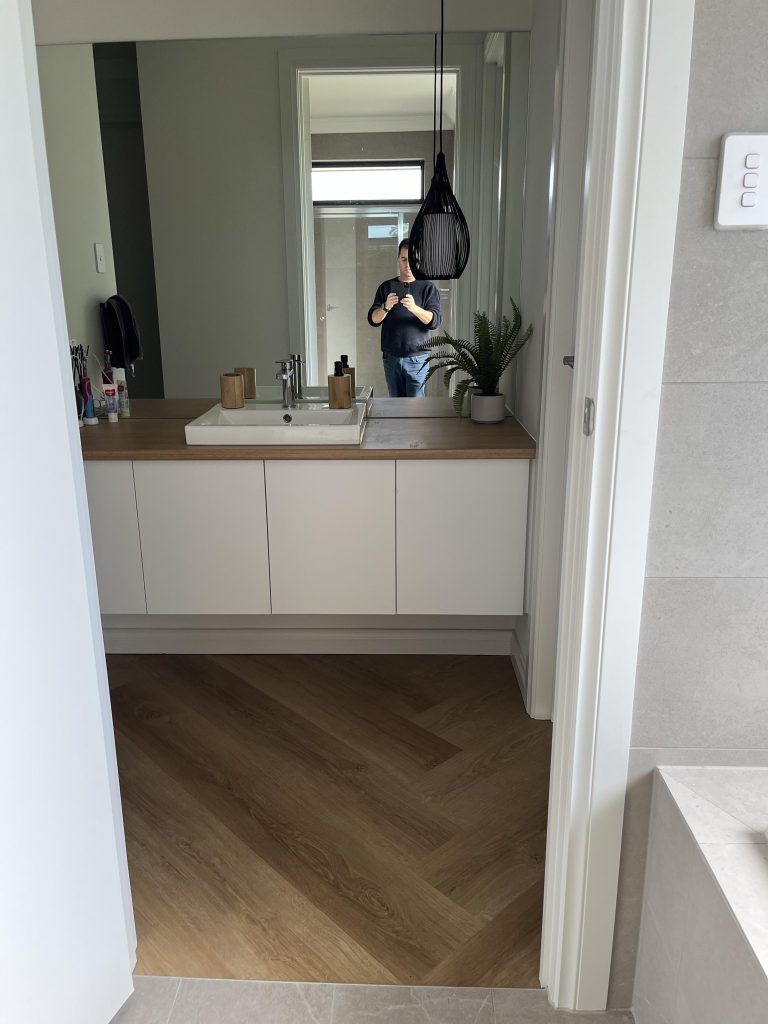 Having said that, however, Herringbone can end up being quite an expensive flooring choice if you decide to have your design crafted using small timber pieces or tiles. This is due both to the cost of materials and the amount of effort that must be put in in order to install smaller pieces in a Herringbone pattern.
Are Herringbone Floors In Style?
Herringbone floors offer a classic aesthetic that never goes out of style. Having said that, they're also particularly popular at the moment, so if you're looking to renovate for profit or create a more on-trend design within your home, they're the perfect option.
Herringbone can create a timeless style if you're creating a suitable space, and many architects and interior decorators are suggesting this type of flooring at the moment.
Do Herringbone Floors Add Value?
As noted above, Herringbone flooring is a great way to add value to your home. The amount of value added will depend on the type of Herringbone you choose and the design which it is installed in, but it can certainly bump your property price and/or equity up.
It is important to remember, however, that this type of style is not for everyone, so if your main goal is to increase your sale price, you will need to consider whether it is more beneficial to you to appeal to a wider audience, or whether you would rather create a niche vibe within your home.
Herringbone Throughout The Home
Another super common question about Herringbone floors is whether they're suitable for different areas of the home:
Are Herringbone Floors Suitable For Kitchens?
Yes, as a general rule, Herringbone flooring in all of its forms is suitable for installation in kitchens unless a specific product states otherwise.
Can You Install Herringbone Floors In Bedrooms?
Herringbone flooring is perfect for bedrooms, especially master suites. The warmth, elegance and character added by having such an intricate flooring design can really take your sleeping space to the next level, making Herringbone an ideal choice.
Does Herringbone Flooring Suit Living Spaces?
Although particularly well suited for more formal living spaces such as dining rooms, libraries, studies/home offices and parlours/sitting areas, Herringbone can be installed in all living spaces of your home where it suits the aesthetic that you're going for.
Herringbone Flooring For Bathrooms
Installing Herringbone floors in bathrooms is tricky, but certainly doable. In this instance, you would need to create your own pattern using either Luxury Vinyl Plank floorboards or tiles, as your chosen material must be suitable for installation in wet areas.
Can You Lay Herringbone Floors In Laundries?
Much like bathrooms, laundries present restrictions on the installation of Herringbone flooring, but it is still possible. As laundries are considered wet areas, your options here will be limited to floors suitable for installation in these spaces, so you will be best off to select tiles or Vinyl flooring.
How Can Herringbone Flooring Work With Outdoor Spaces?
As noted earlier in this piece, Herringbone floors are a great way to lead people in a specific direction or highlight a key design element. This makes them a particularly wonderful choice for those looking to enhance the indoor/outdoor flow of their home. Simply position your Herringbone flooring so it points to either your indoor elements or outdoor living space (depending on the direction you're facing) and you'll enjoy enhanced flow between these areas.
What Herringbone Flooring Options Are Available In The Imagine Floors By Airstep Range?
We presently have four collections which can be used to create a chic Herringbone base for your design. Our Masterpieces Laminate Herringbone floors are the easiest way to achieve this kind of look, but if you're willing to put in a little extra effort to get the exact style that you're after, you can also create a Herringbone look with our Oatlands, Naturale Plank 3.0 and Naturale Plank 5.0 collections of Luxury Vinyl flooring.
Once you have made your decision about what type of floors you'd like in your home, head over to our Store Locator to find your preferred local flooring specialist and discuss installation.