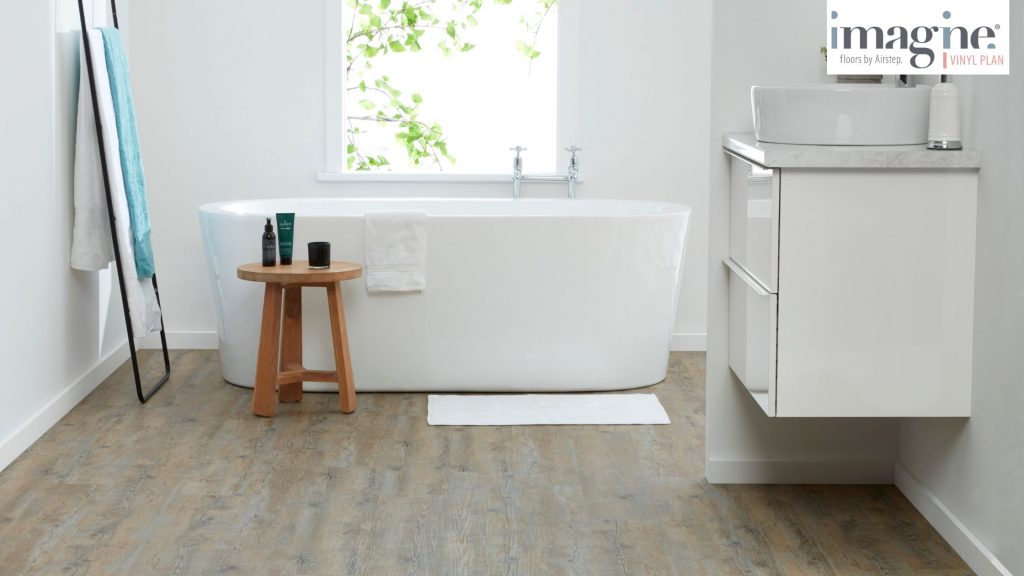 When it comes to renovations, wet areas are always the hardest – and most expensive – to redo. While there are ways to avoid getting water everywhere in the kitchen, you often aren't afforded that luxury in the bathroom. Traditionally this has been bad news for your budget as finishes that were of high enough quality to withstand usage in the most humid part of your house often tugged quite heavily at your purse strings. This led to people getting rather inventive with their finishes and flooring is no exception.
Because of this, one of the most common questions we receive about our vinyl plank flooring is whether it can be used in the bathroom. So, that's what we're exploring today:
Can You Use Vinyl Flooring In A Bathroom?
The good news is that, yes, you can renovate bathrooms with vinyl flooring.
All Imagine Floors by Airstep Vinyl Plank flooring can safely be used in any room of your home – including the bathroom. Our vinyl planks are 100% waterproof and are the perfect choice for those who love the look of genuine wood floors, but don't want to deal with the danger and hassles of having timber flooring in the bathroom.
Having said that, this is not the case for all brands, with many only rated water resistant, not waterproof, so it is important to do your research before selecting vinyl flooring for your bathroom.
What Are The top 5 Benefits Of Renovating A Bathroom With Vinyl Flooring?
Budget Friendly
As noted at the beginning of the article, vinyl plank is a great option for bathroom flooring if you're looking to renovate on a budget. Considerably cheaper than tiles to purchase, vinyl plank is also far easier to install which will save you money both on materials and labour costs.
Does Not Become Slippery When Wet
Another great benefit of using vinyl flooring in the bathroom is that it isn't slippery when wet. This is particularly important for those with small children or accident-prone family members, but it is beneficial to anyone who uses the bathroom.
Easy To Clean And Maintain
Pretty much everyone can agree that one of the most annoying things about bathroom tiles is trying to keep the grout clean. It seems that no matter how well – or often – you scrub the shower and floors, that white grout inevitably turns an interesting shade of grey over time.
Vinyl, on the other hand, is incredibly easy to clean and maintain, simply give it a wipe with a diluted pH neutral cleaning detergent (always follow the manufacturers recommendations) as needed and you'll have beautiful, fresh floors for years. Plus, vinyl plank is stain resistant, so your new floor will stand the test of time no matter what life throws at it.
Can Be Installed Over Existing Flooring
Imagine Floors by Airstep Vinyl Plank flooring can be installed over the top of almost any existing floor (always check your manufacturer installation instructions on subfloor preparation). Not only is this great for your back pocket as it greatly reduces the need for demolition, it also significantly shortens the time that it will take to complete your renovations.
Softer Underfoot
Finally, vinyl plank flooring adds a softer, warmer touch to any room that it is installed in. This is particularly true for bathrooms as this rich flooring option is far kinder on feet than tiles could ever be. It is also compatible with underfloor heating so you can have your cake and eat it too.
Want to learn more about installing our vinyl plank flooring in your bathroom? Get in touch with our friendly customer support team – they're always happy to help!