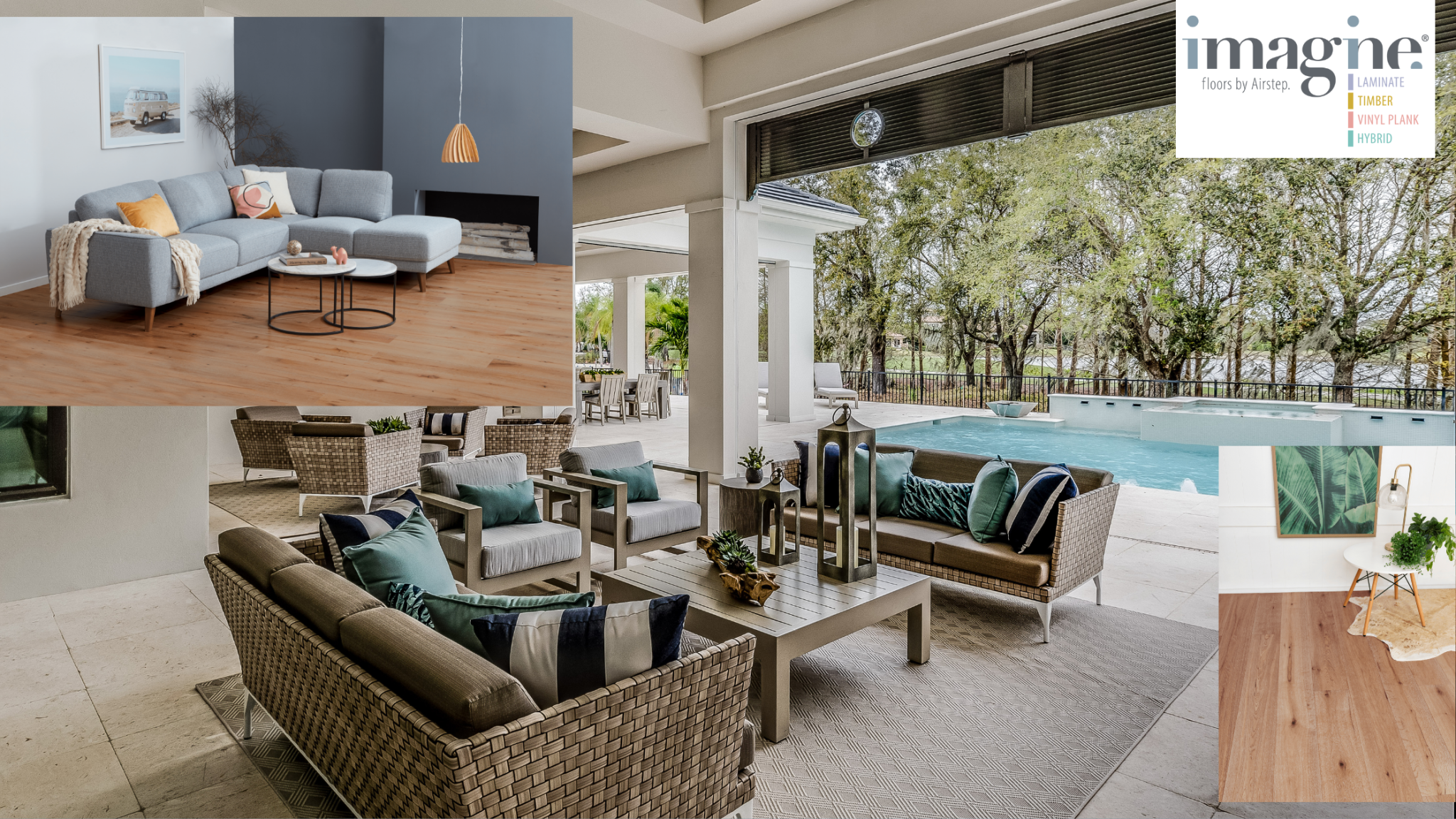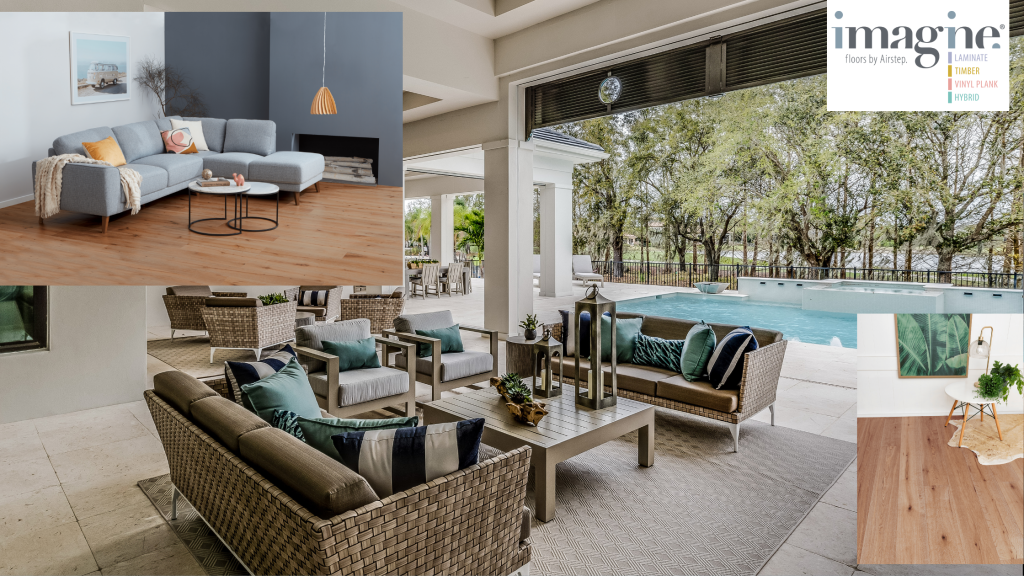 If there's one design trend in Australia that will never go out of style, it's indoor / outdoor living.
Aussies are known for our love of BBQs, outdoor living and entertaining at home, so its no wonder that we're also quite fond of blurring the lines between our indoor and outdoor areas. Blending indoor areas with your outdoor space helps to make your home feel larger and more airy while also making the attached exterior zone feel more comfortable, so it's certainly worth looking into.
Having said that, this cohesion isn't always easily achieved. That's why we've put together this collection of tips for enhancing the indoor / outdoor flow of your space.
Start With The Floors
Because your floors are the foundation of your design, they set the tone for everything that follows. This means you're going to need a nice transitory flow between your indoor areas and your patio or deck if you want to make these spaces blend seamlessly.
Engineered Timber Flooring Flows Beautifully With Other Natural Materials
One of the easiest ways to ensure that your indoor and outdoor entertaining areas flow nicely is to install Engineered Timber Floors inside and a natural material – such as slate or wood – outside. This is because natural materials inherently pair well and a give fresh vibe which will help tie spaces together seamlessly.
Same Or Complimentary Shade
Another way to help bring your spaces into harmony is to select indoor and outdoor flooring options in either the same shade or complimentary ones. This design concept works best when your selections flow in the same direction and are of the same width.
We suggest using a waterproof option such as Luxury Vinyl Plank or Hybrid Flooring when working with this type of style, so you don't have to worry about any outdoor mess or spills causing issues inside your home.
Recess Doors And Boundaries Into The Floor
If you're looking to optimise the flow between areas, it is also important to recess doors and other boundaries into your floor. This allows you to move freely between indoor and outdoor settings without having to worry about tripping over any hardware that separates the two spaces.
Blur Boundaries
Finally, blurring the boundaries between where each area ends is a great way to create the illusion of a more cohesive space. You can do this by bringing outdoor flooring just inside your kitchen or living space or extending your indoor floors slightly outward. The first of these two options is much easier than the second, however, it is achievable if you're dedicated enough to the process and are willing to put in the work of maintaining things nicely.
Build Out Large Design Elements
Now that you've got the foundation set with your chosen floors, it's time to get other large design elements sorted out.
Cover Your Outdoor Area
When it comes to having a seamless flow between your indoor and outdoor areas, you're going to want to maximise the amount of control that you have over both environments. Because of this, we strongly recommend covering your outdoor area.
This can be done with a traditional wood or metal patio roof, or you can get a little fancier and create an outdoor roof that has a ceiling very similar to those within your home. You can even add skylights if you're feeling particularly fancy as they'll work well to allow more natural light into both spaces.
Enclose Your Patio With Outdoor Blinds
In addition to adding a roofing solution, you'll also want to have the ability to completely block your outdoor entertaining area off from the outside world if you choose to do so. This is particularly useful for those who want to enjoy outdoor living even during the colder months, however, its also great for maintaining privacy.
We suggest the use of high quality outdoor blinds in a design that fits with the rest of your vibe.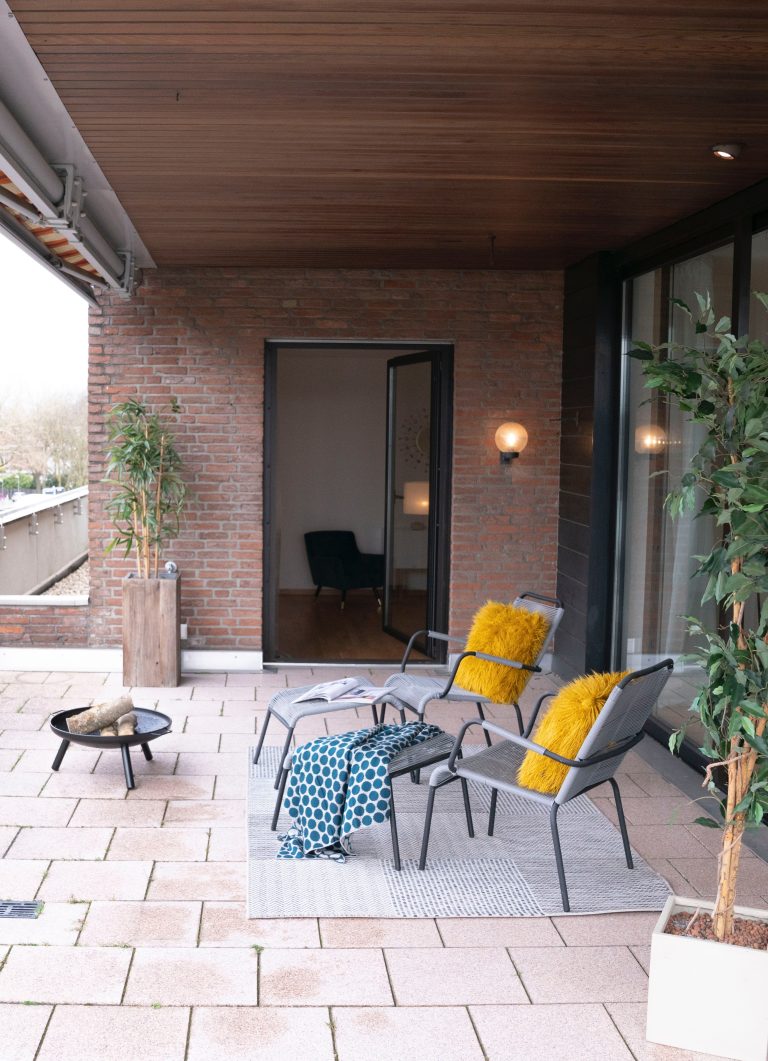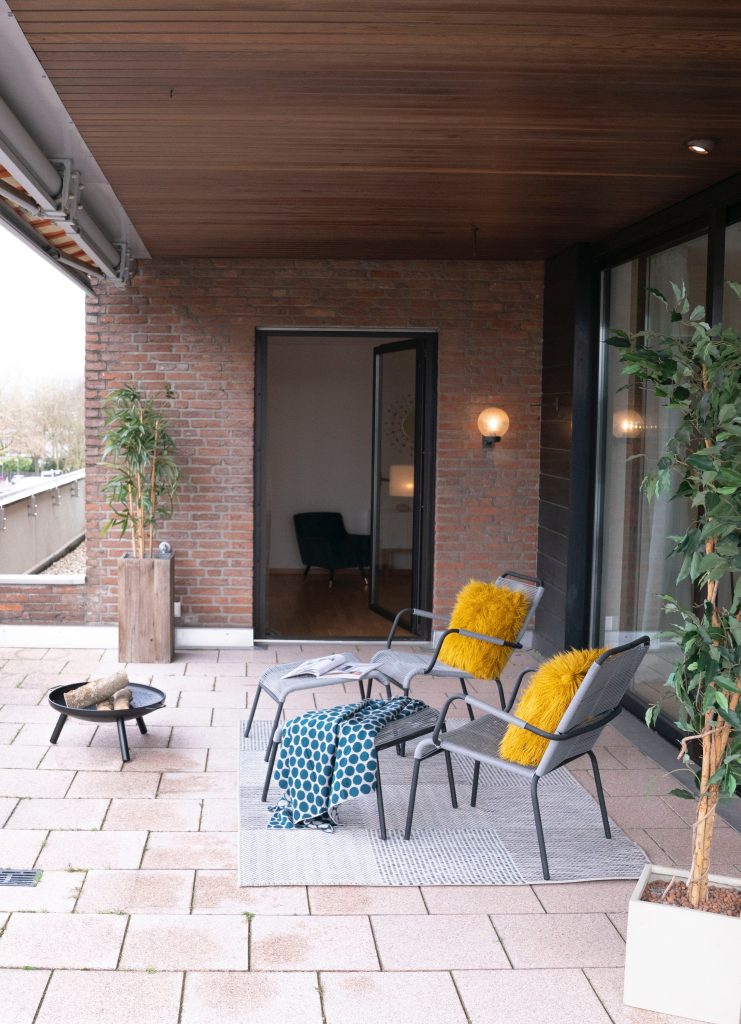 Outdoor Lighting Is Key
You'll also want to carefully consider and install outdoor lighting solutions in order to make the most of your exterior space during the evening. Ideally you'll want your exterior spaces to be as well-lit as your interior ones. In outdoor entertaining areas where you have chosen to have a proper ceiling finish, downlights are a great option for general lighting, however, feature lighting such as pendants or element specific lighting (within your garden or along a walkway for example) should also be considered.
Floor To Ceiling Windows And / Or Sliding Glass Doors
Floor to ceiling windows are another excellent way to blend your indoor and outdoor spaces as they remove one of the most significant barriers between the two areas – solid walls.
Those with the ability to do so will also want to consider the installation of large sliding glass doors to really combine the two spaces, however, this will depend on the construction of your home.
Boost Your Indoor / Outdoor Flow With Smaller Elements
Finally, if you really want your indoor and outdoor areas to feel like one large space, the devil is in the detail.
Make Clever Use Of Window Dressings
Privacy is important so as much as you'll want to maximise the amount of clarity between your indoor and outdoor areas, you'll also want the ability to create a barrier when necessary.
We suggest roller blinds for those who prefer a minimalist vibe and will want things either entirely open or fully closed most of the time. Those who prefer a more luxe feeling to their space, or would prefer the ability to scale how much of their space is open at any given time would do well to look into blockout curtains as they're both a gorgeous design element and an eco-friendly addition.
Don't Block Access
When selecting your furniture layout for both your indoor and outdoor living areas we suggest avoiding tall pieces in areas where you want to easily flow between the two spaces. You'll also want to ensure that you have an easy to use walkway between both areas that is clear of obstructions at all times.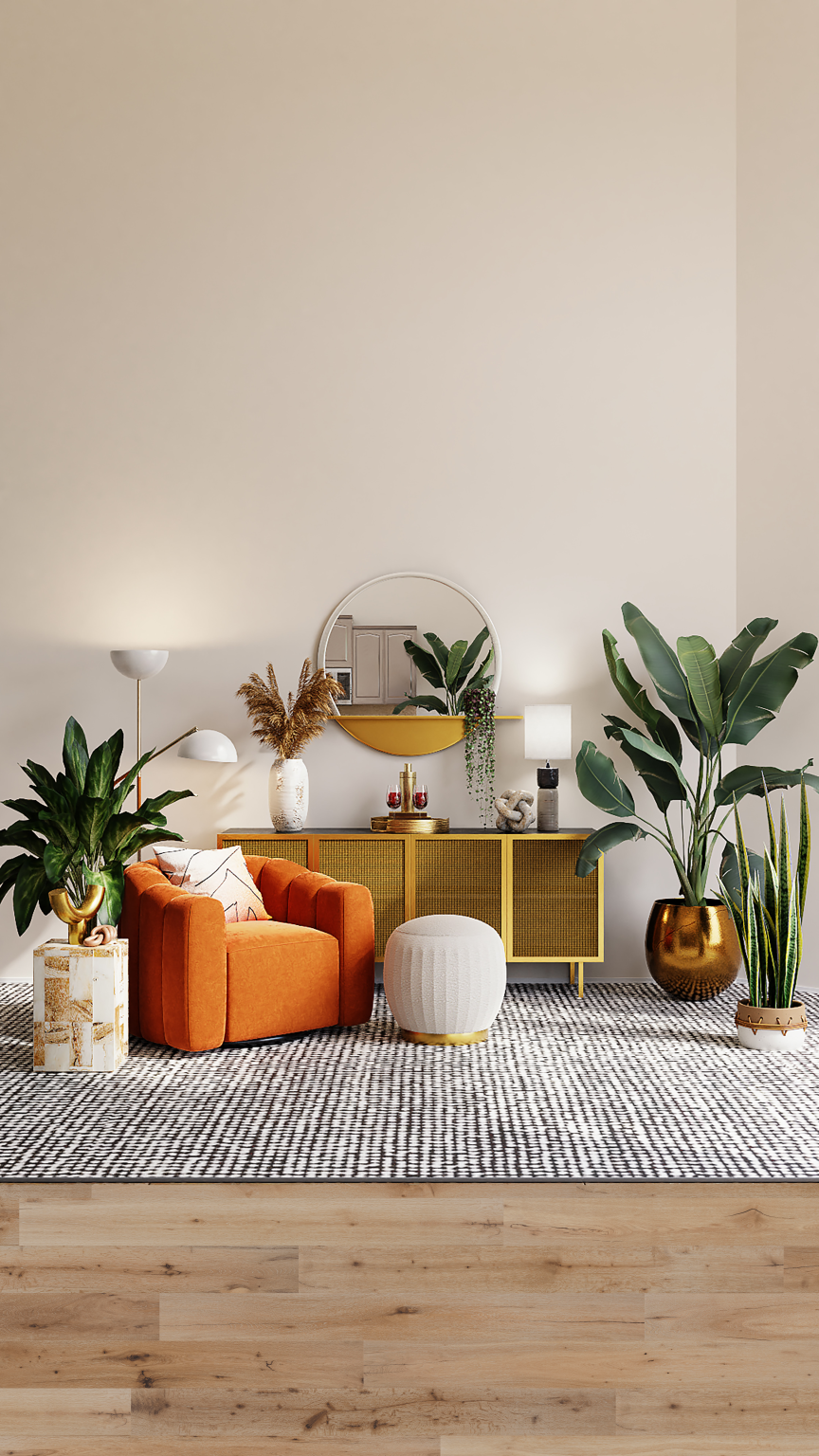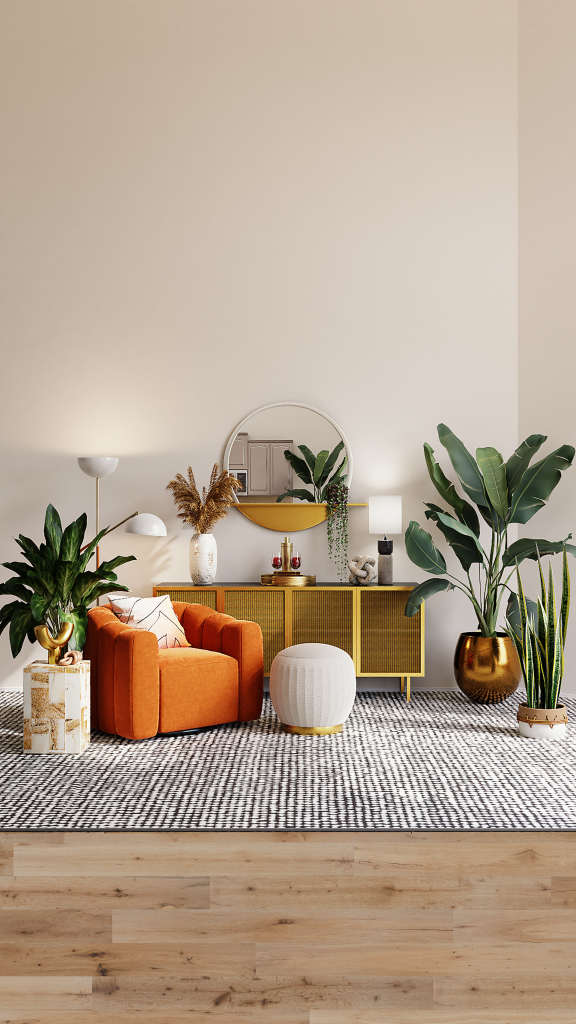 Use Plants To Bring The Outside In
Indoor plants are great for improving air quality and bringing a natural, peaceful vibe to your space, but they can also be super helpful in terms of enhancing your indoor / outdoor flow. Select matching pots for your plants in both spaces and choose species that look similar to really tie your designs together.
Align Your Colour Schemes
You can also achieve this blending effect by aligning the colour schemes that you use in your interior and exterior spaces. You don't have to go for an exact match if your want each space to have its own independent personality. Simply selecting complimentary shades will work just as well.
Select Similar Furniture
Gone are the days when outdoor furniture was bland and basic. These days you can select sofas, tables, chairs and more that would look just as at home inside a display house as they do in your backyard. Because of this, it is now much easier to create a cohesive design and enhance your indoor / outdoor flow as you'll be able to select similar pieces for both interior and exterior spaces.
Choose Complimentary Small Comforts And Soft Furnishings
Speaking of the furniture, a design is never truly complete without small comforts and soft finishings. In order to tie your indoor and outdoor spaces together, we suggest making use of these elements to really add the finishing touches. Examples include choosing the same coloured cushions, similar rugs, matching throw blankets, etc.
Install Matching Finishes
Finally, if you're looking to go right down to the super fine details, we suggest matching any outdoor tapware or gate handles to their indoor tap and handle equivalents. This can also be applied to outdoor kitchens as matching countertops and cabinetry should be available.
Ready to set up your own private oasis with the perfect indoor / outdoor flow? Reach out to your local flooring specialist to discuss which options will be best to set the foundation for your space today.