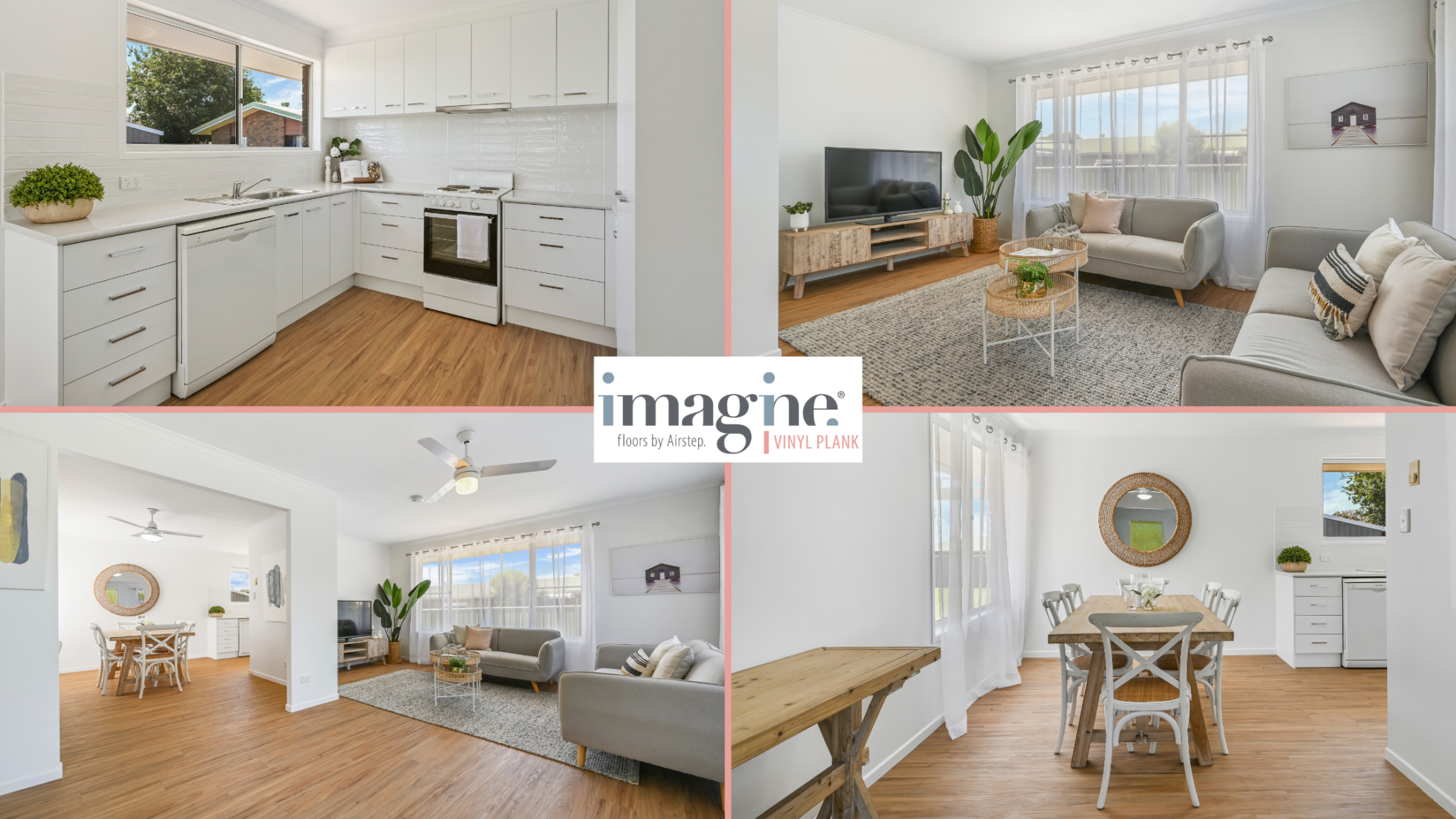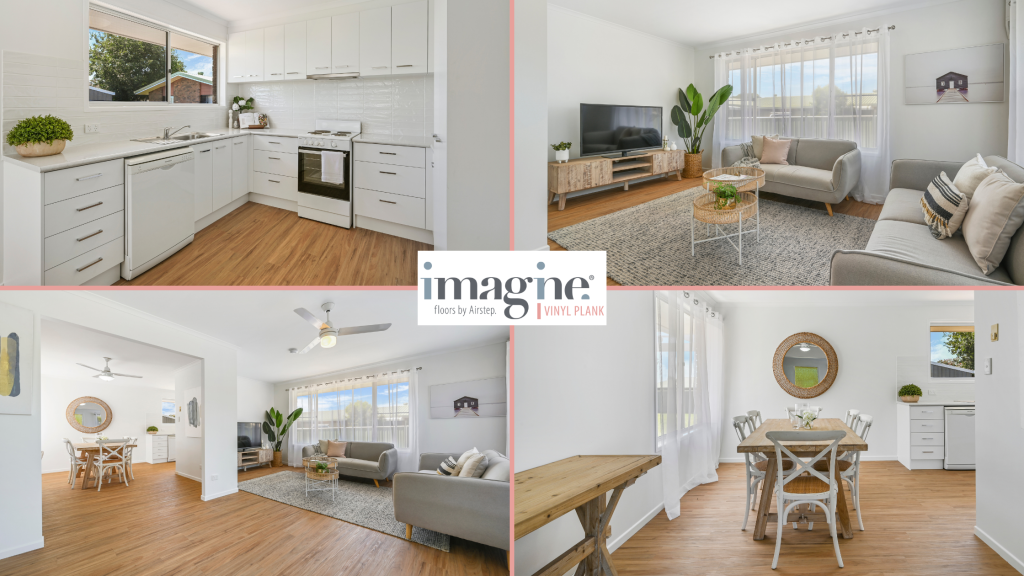 In today's blast of interior design inspiration, we're looking at how you can get a cohesive feel and design for the flooring throughout your home. Because certain spaces within the home carry risks to your floors that are not present in other areas, you will often find that different flooring materials are laid in different sections. For example, homeowners tend to install tiles in bathrooms and other wet areas to help prevent water damage, and entryways and mud rooms almost always feature flooring that has been selected for durability and ease of maintenance rather than aesthetic value. By the same token, kitchen flooring is selected based on how easily spills can be removed (and whether they'll leave a stain) and bedroom floors tend to feature something a little more luxurious such as engineered timber flooring or plush, comfortable carpets.
While there's obviously nothing wrong with these variations (and we love a good feature tile as much as the next person) those looking to create a cohesive home with uniform flooring will find this to be quite displeasing.
The good news, however, is that it is actually possible to lay just one type of flooring throughout your home without compromising on any of the above-mentioned aspects. If you're chosen type is vinyl that is.
Vinyl flooring can be installed in any room of the home (including the bathroom) and provides an ideal option for those who want to carry a single design style throughout their space.
Today we'll be exploring what makes vinyl plank flooring so versatile and offer some design suggestions on how you can incorporate different decors into your home.
What Makes Vinyl Flooring So Versatile?
Vinyl flooring has advanced greatly since it first came onto the scene and can now provide a whole host of benefits for your home. Presenting the finest blend of strength and luxury, vinyl plank flooring can be installed in any space within your home thanks to its durable and waterproof nature.
This strength is then partnered with carefully crafted designs which effortlessly mimic the appearance of genuine timber flooring, therefore allowing you to experience a warmer, softer touch and beautiful natural aesthetic.
Because of these benefits, vinyl plank flooring enjoys a versatility that is rare in any other material.
Vinyl Flooring For Bathrooms
As noted earlier in this piece, one of the biggest benefits of vinyl plank flooring is that, because planks are 100% waterproof, they can be installed in bathrooms and other wet areas within your home (excluding shower bases). This is perfect for those who are looking to create a cohesive design throughout their space as the bathroom is the area where it is most common (and necessary) to install a different type of flooring.
Entryways And Mud Rooms With Vinyl Floors
Another perk that comes with vinyl flooring's waterproof guarantee is that floorboards are incredibly easy to clean. Most, if not all, mess can be easily cleaned off vinyl floors with the help of a gentle, pH neutral floor cleaner making it the perfect choice for areas that are likely to get messy such as your home's entryway or mud room.
Vinyl Flooring In The Kitchen
Speaking of mess, the kitchen area is notorious for staining and even destroying many types of flooring. Between spills from cooking and the fact that your kitchen is one of the most highly trafficked areas in your home (closely following the aforementioned entryways and mud rooms), flooring that is installed within this space must be highly resistant to damage in order to last.
The durability of your vinyl flooring is the biggest perk in this room, however, anyone who has ever had any major kitchen spills will appreciate the importance of the waterproof guarantee.
Luxury Vinyl Bedroom Floors
The bedroom is possibly the only room in the home where people focus on feel and design rather than function. Because of this, luxurious flooring is generally a must and many opt for hardwood or carpet depending on their preferences. Vinyl plank flooring, however, can provide the best of both worlds.
Featuring the gorgeous and luxurious aesthetic of wood while providing a softer, warmer touch that can add gentleness to a room without having to lay carpet, vinyl flooring is the ideal bedroom floor covering.
Design Ideas With Vinyl Floors
Now that you know the benefits of installing vinyl plank flooring throughout your space, we thought we'd throw in some design inspiration to help you on your dream home design journey.
Light And Airy
Looking to brighten your home up and have a light, airy feel throughout your space? Consider Our Naturale Plank 3.0 Dusk Oak Vinyl Flooring. These gentle grey floorboards feature white highlights and are perfect for creating a modern, clean look. Add contrast with deep toned cabinetry and furniture or keep the vibe airy with silver fittings and white finishes.
Those looking to make a statement with larger floorboards could also consider our Naturale Plank 5.0 Ivory Grey Wide Plank Flooring. Featuring sizing that is both longer and wider than industry average, these extra-large floorboards are ideal for making a small space feel bigger while also helping large areas feel cosier.
Traditional Style
If you're after a more traditional look and feel within your home, our Naturale Plank 3.0 Coastal Blackbutt planks will be perfect. The rich earthy browns that create the base tone blended with golden red undertones and highlights bring old-world charm to any set up while still providing the option to modernise your design later if you choose to do so.
If you're after a darker tone or larger floorboards, our Naturale Plank 5.0 Truffle Vinyl Planks are a great option. The dark brown colouring lends itself well to both modern and traditional styling and works wonders for adding depth to your space.
Contemporary Colouring
Those who prefer a more modern twist on their flooring should consider our Naturale Plank 3.0 Barnwood Vinyl Floors. Featuring a gorgeous blend of browns, creams, blues and greys, these floorboards are sure to make a statement and help modernise your space.
Our Oatlands Scottsdale Vinyl Planks also offer a more modern design with smoky grey colouring paired with creamy highlights that provide a minimalistic approach to your flooring while still adding an element of interest.
Darker Vibes
If darker colours and deeper tones are more your vibe, consider installing our Oatlands Pebble Beach Vinyl Planks. Crafted from deep black tones blended with shades of grey, these floorboards are sure to grab attention and give your home an ultra-modern twist.
Alternatively, if you're after a more muted design, consider our Naturale Plank 5.0 Graphite Extra Large Floorboards. The softer grey palette of these wide plank floors makes them ideal for nearly any design style and their large size makes them an eye-catching addition to your home.
Dramatic Style
Those with dramatic taste may wish to look into our Naturale Plank 3.0 Smoked Hickory Vinyl Flooring. The warm browns and subtle red undertones of these floorboards make a statement while the darker brown tones add balance which allows you to scale up or down the drama in your room easily with your furniture choices.
Soft, Calming Neutrals
Finally, if you're after a neutral shade that will provide a calming vibe for your home, we recommend our Naturale Plank 3.0 Autumn Washed Oak Luxury Vinyl Planks. The gentle blend of a lighter brown and soft creams provides an ideal base for any design style and offers flexibility for a refresh in the future without having to redo your floors.
Looking for further guidance on which of our wonderfully tough and versatile Vinyl Plank flooring options is right for you? Check out the other styling blogs on our site or contact your local flooring expert.