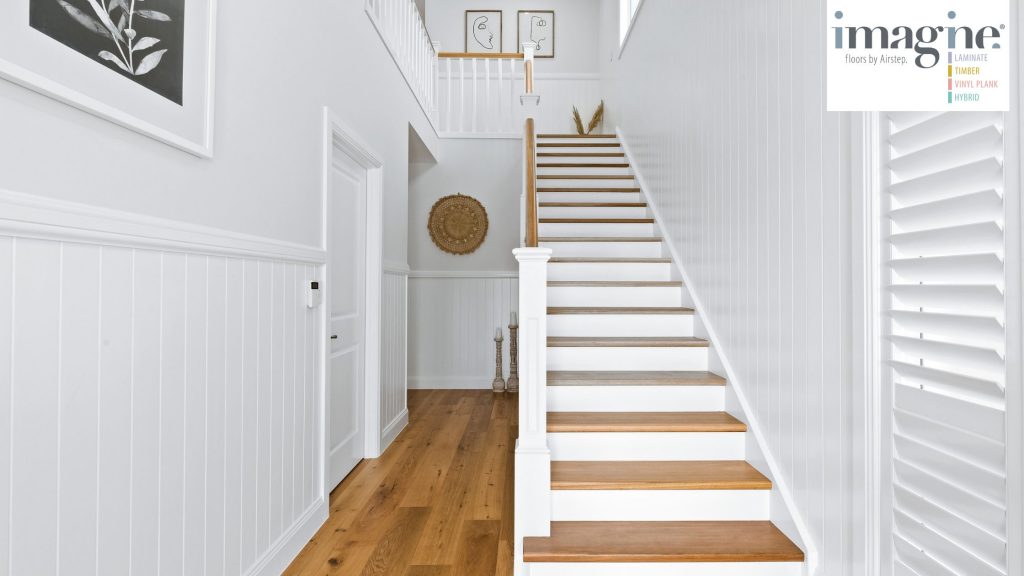 We often get asked why staircases need stair nosing, so today we're explaining what stair nosing is, and why you should install it in your home.
What Is Stair Nosing?
Put simply, stair nosing is the piece that covers (and often pokes out from) the edge of the stair itself. It hides the join between the two flooring pieces that have crafted your stair and is where you'll step most of the time.
Why Do I Need It?
Stair nosing provides both functional aesthetic benefits including:
Increase Safety
The main purpose of stair nosing is to increase the safety of your stairs. Stair nosing slightly increases the surface area which helps to reduce the risk of missing a step or losing your footing while going up or down. This in turn reduces the risk of falls and makes your staircase safer (especially for those wearing heels or who have large feet).
Protects Your Stairs
Because it covers the join in materials and provides a place to put your feet (other than on the actual step) stair nosing protects your staircase. This improves the longevity of your staircase and helps reduce maintenance requirements.
Boosts Visibility
Stair nosing also helps to increase the visibility of your stairs. Our brains can better process where each step ends when it is highlighted by stair nosing that pokes out slightly making it a great safety feature. This is important in low light areas.
Easier Repairs
Another great benefit of installing stair nosing is that if anything does go wrong and your staircase gets damaged for some reason, it will most likely actually be your stair nosing that is damaged, not the actual stair structure. This means that instead of having to replace the entire step, you can simply attach replacement nosing and have it looking good as new in next to no time. While this will include replacing the top section of your step (as it is part of the nosing) this is still far more convenient, and economical, than having to make structural changes.
Can Be A Design Feature
Because stair nosing is designed to match the flooring of your staircase, it can be used as a design feature. If you want a cohesive look, simply select nosing that matches the flooring from which your stairs are crafted.
Or, if you're after a more unique design, we've heard of people selecting complimentary colours (or even completely contrasting ones) of stair nosing rather than an exact match. This allows you to have a point of interest in your design as the front of your stair will not be exactly the same as the top.
Imagine Floors by Airstep Stair Nosing
Our stair nosing is available in Engineered Timber, Hybrid, Laminate and Vinyl Plank materials with unique nosing designed for each flooring collection that we provide. As it matches each flooring type, you can sleep soundly knowing that your nosing provides the same benefits (including the great slip ratings our floors feature and the waterproof status of our vinyl plank and hybrid ranges) as your chosen floorboards.
Our stair nosing is designed to provide an absolute colour match for your staircase, however, as noted above, if you want to switch things up, this is entirely possible too. To receive the benefits of our 100% colour match guarantee, simply let your flooring expert know that you would like your nosing provided in the same décor as your chosen floor and we'll take care of the rest.
Please Note: When choosing stair nosing that does not exactly match your flooring, we strongly recommend sticking to the same material and range to ensure fit and compatibility – i.e. Reclaimed Wild Oak on Reclaimed Wild Oak or Asha on Asha.
To discover the dimensions of, or find a stockist for stair nosing that matches your preferred Imagine Floors, simply head over to the accessories section of our site. All technical information including fire ratings, waterproof status and slip rating match our flooring so please refer to the appropriate Technical Data Sheet or contact your local expert for further information.