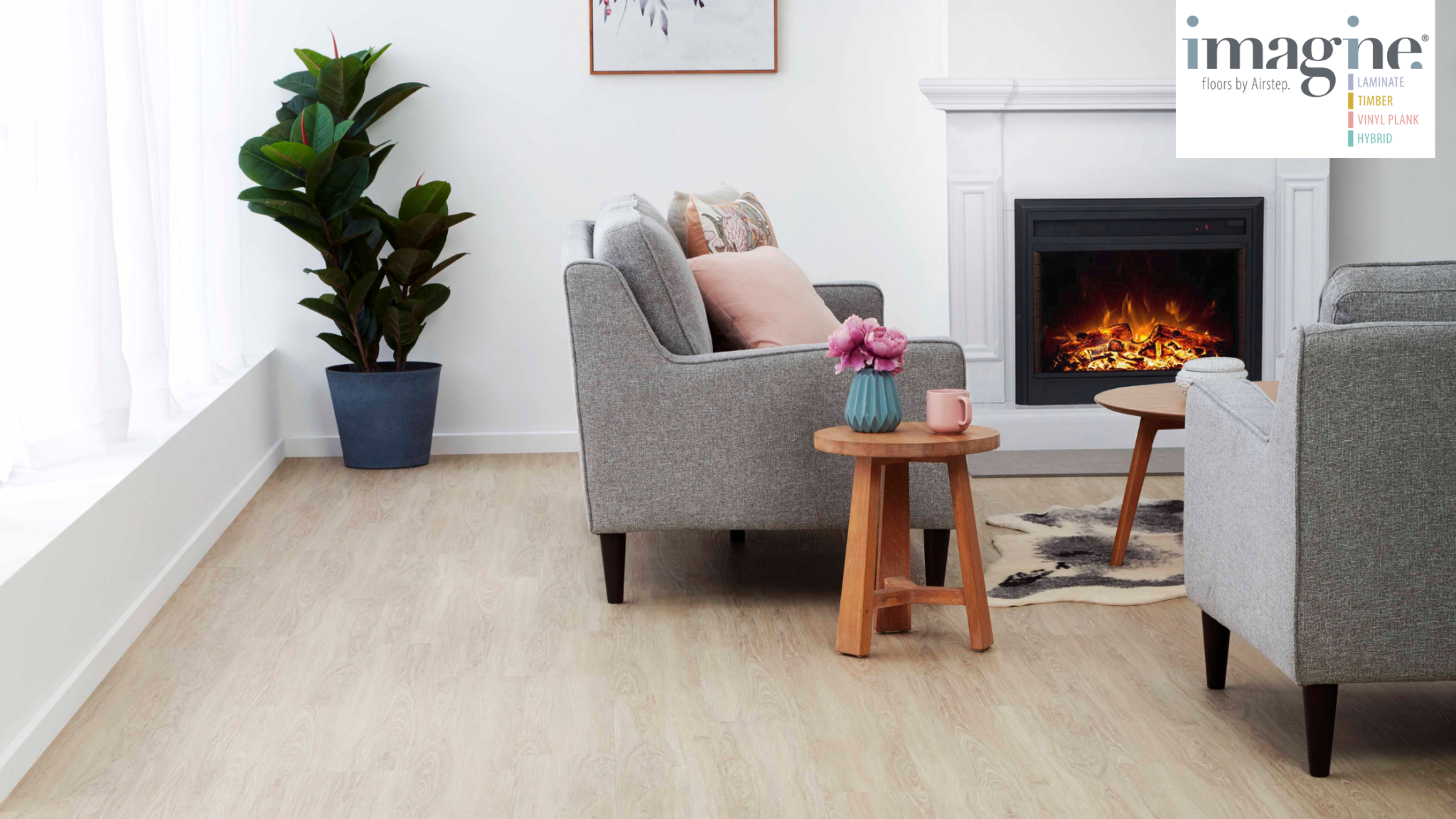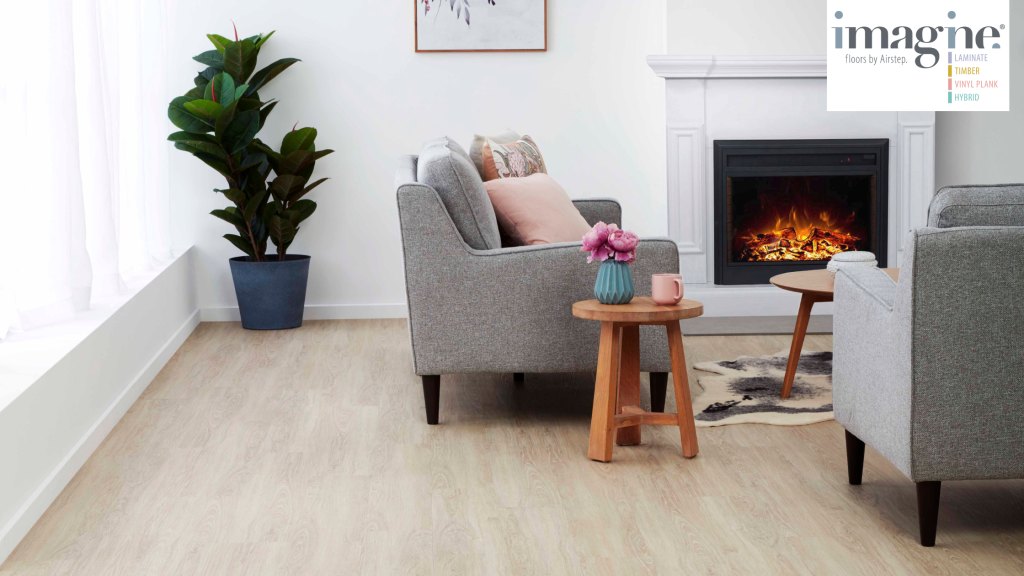 When it comes to Hamptons styling, there is a great divide between whether your flooring should be light to match your furniture and other finishings, or dark to add contrast and depth. At Imagine Floors by Airstep we believe that your interior design should be a reflection of you, so we're not here to weigh in on which side is right or wrong. We are here, however, to provide our top floor styling suggestions no matter which side of the fence you fall on.
Hamptons Style With Light Floors:
Light flooring is the most common choice for Hamptons homes as it blends seamlessly with the overall desired aesthetic. In the interest of ensuring that there's a suitable option for everyone, we have included our top three recommendations from each of our ranges.
The Best Light Engineered Timber Flooring For Your Hamptons Home:
Genuine Timber flooring is most closely aligned with this luxury style, however, it cannot be installed in all spaces within your home. Please ensure that your new Timber flooring is kept away from areas where it would be prone to getting wet in order to avoid damage and disappointment.
White Lacquered Natural Oak
Perfectly aligned with the whitewashed finish commonly used to craft a Hamptons look, our White Lacquered Natural Oak Engineered Timber Flooring is the ideal selection for this design aesthetic.
Drift Oak
If you're looking to emphasise the coastal portion of Hamptons style, we recommend making use of our Drift Oak Engineered Timber Flooring. Featuring an almost sand like shade, these genuine wood floors will have you dreaming of sipping cocktails on the beach every time you step into your lounge room.
Brushed Natural Oak
Finally, if you're looking to for a colour that's a bit deeper but aren't ready to fully commit to the dark side, our Brushed Natural Oak Engineered Timber Flooring is the perfect choice. Featuring caramel tones, these warm floorboards are sure to liven up any space.
Strong & Beautiful Laminate Flooring With Hamptons Style:
Those with busy households, small children or pets with sharp claws would most likely be best suited to laminate flooring options. Although laminate is one of the strongest materials on the market, featuring scratch, dent, fade, and stain resistance, it is not 100% waterproof so if you're looking to install in wet areas, you may wish to consider the Vinyl Plank or Hybrid options further below.
Extravagant Dynamic XXL Alpine White Oak
Featuring both length and width that are far larger than industry standard, our Extravagant Dynamic XXL Alpine White Oak Luxury Laminate Floorboards can make a statement no matter which room they are placed in. Designed with cool, light grey tones, these XXL floor coverings blend perfectly within the muted, yet simultaneously over the top, styling of a Hamptons home.
Bushlane Grey Gum
Crafted from a blend of soft grey tones, our Bushlane Grey Gum Laminate Flooring is exclusive to Flooring Xtra. Effortlessly mimicking their Australian native namesake, these floorboards add a local twist to your Hamptons style home.
Eucalyptus Steps Snow Gum
For those chasing muted greys to work into their Hamptons design, our Eucalyptus Steps Snow Gum Laminate Flooring is a clear winner. With gentle brown undertones, these modern grey boards add a minimalistic vibe that can balance extravagant furnishings and bring your design back into line with the crisp and clean nature of this style.
Bonus: Masterpieces Cream Chevron
Although many opt for clean lines and standard floorboards in a Hamptons home, there is certainly still room for a lovely chevron pattern if you're so inclined. We recommend our Masterpieces Cream Chevron as the soft colour combination works well with the overall style and many do choose this option so don't feel like you can't if it is what you like – remember, no matter what design you draw inspiration from, your home should still be a reflection of you.
Vinyl Plank Flooring For Hamptons Designs:
For those looking to add some coastal Hamptons vibes to the wet areas of their homes, Luxury Vinyl Plank flooring should not be overlooked. This 100% waterproof option has come a long way since the inception of the material and the visual effect can now rival its natural Timber counterpart.
Naturale Plank 5.0 Champagne
Looking for wide plank flooring to really make your Hamptons style pop? Our Naturale Plank 5.0 Champagne Vinyl Plank Flooring is so classy even its name is fancy! With a colour not unlike the bubbly beverage these floorboards share their name with, this flooring option is ideal for bringing a little warmth to your design.
Oatlands Turnbury
If you're after a slightly cooler look that still features creamy tones and soft browns, we recommend using our Oatlands Turnbury Vinyl Plank Flooring. A carefully crafted aesthetic meets durability and versatility in these floorboards and they're sure to fit right in with your Hamptons design.
Naturale Plank 3.0 Sandy Oak
Go complete coastal in your Hamptons design with our Naturale Plank 3.0 Sandy Oak Vinyl Plank Flooring. As the name suggests, these floorboards are a light beachy shade and because they're made of Vinyl, you can install them in every room and have a fully cohesive Hamptons house if you'd like to.
Hybrid Flooring For Hamptons Homes:
Waterproof and full of rich details, Hybrid Flooring is a great option for any room in your Hamptons style home.
Soleil Coastal Mist
Want a cooler tone that feels light, bright, and airy? Consider our Soleil Coastal Mist Hybrid Flooring. Perfect for a breezy Hamptons style, these hybrid floorboards feature cool grey colouring and pale cream accents in a muted shade that allows it to blend seamlessly with the rest of your design.
Saranda Smoke Oak
If you want to go grey, but not too grey, Saranda Smoke Oak is the ideal flooring choice for your Hamptons home. Exclusive to Flooring Xtra, these floorboards offer milky highlights on a grey base with brown undertones that are sure to inspire your space.
Soleil Harvest Beige
Looking to stay closer to the country roots that Hamptons style exhibited when it first came to Australia? Our Soleil Harvest Beige Hybrid Flooring features an almost wheat like colouring that is ideal for a country chic Hamptons vibe.
Hamptons Style With Dark Floors:
Although not as popular within the Hamptons design niche as their lighter counterparts, dark flooring options can actually blend perfectly with this style when done right. The contrast and depth added by a darker floor brings interest to a room and can liven up a space that may otherwise start to feel a little too whitewashed.
Dark Hamptons Style Engineered Timber Flooring:
The first thing you need to decide when installing a darker Engineered Timber floor in your Hamptons style home is whether you want cool tones or warm ones. From there, simply select one of the options below and watch the luxurious contrast take shape.
Mocha Oak
If you're looking for dark yet cool tones to add to your Hamptons aesthetic, we suggest the use of our Mocha Oak Engineered Timber Flooring. Featuring rich brown colouring, similar to that of chocolate or coffee, these floorboards are ideal for bringing some Zen depth to your space.
Golden Oak
If, on the other hand, you're chasing warm tones, we suggest looking to our Golden Oak Engineered Timber Flooring. The vibrant, honey brown shades of these floorboards are sure to add elegance to any room while complimenting your Hamptons vibe.
Deep Toned Laminate Floors For Hamptons Homes:
In addition to the durability and versatility that laminate can provide for your home, it also comes in quite a broad range of colours making it great for those chasing variety or uncommon colouring.
Solido Vision Cask Oak
The rich, deep brown tones exhibited within our Solido Vision Cask Oak Laminate Floorboards are perfect for adding contrast and decadence to your Hamptons style home.
Eucalyptus Steps Gloss Jarrah
If you're after a gorgeous glossy finish, consider our Eucalyptus Steps Gloss Jarrah Laminate Flooring. Featuring deep, reddish tones, these floorboards are sure to have your Hamptons design standing out from the crowd.
Extravagant Dynamic XXL Nero Oak
If you're looking to go extra-large and extra dark, we recommend our Extravagant Dynamic XXL Nero Oak Wide Plank Laminate Flooring. Crafted from a mixture of deep, cool brown tones, these floorboards are great for adding contrast and depth to a Hamptons home.
Bonus: Masterpieces Noyer Chevron
Those looking to create an element of interest with their flooring may wish to lay our Masterpieces Noyer Chevron Laminate Flooring. Combining colouring ranging from cream through to black, these chevron flooring planks are a great touch to add to your Hamptons style.
Dark & Moody Hamptons Style Vinyl Plank Flooring:
If you're looking to add darker flooring throughout your home, Vinyl Plank is an ideal choice as it can be installed anywhere and everywhere.
Naturale Plank 5.0 Truffle
As the name suggests, our Naturale Plank 5.0 Truffle Wide Plank Vinyl Flooring is a gorgeous deep, yet bright, shade of brown. Featuring larger than standard width and length, these Vinyl Plank floorboards are the perfect statement flooring for your Hamptons home.
Naturale Plank 3.0 Pepper Grey Oak
Our Naturale Plank 3.0 Pepper Grey Oak Vinyl Plank Flooring offers a mixture of bold and gentle greys that are sure to add depth to any space. Providing the perfect contrast for Hamptons styling, without being overpowering, these floorboards are ideal for any room in your home.
Oatlands Pebble Beach
Looking to add drama? Oatlands Pebble Beach Vinyl Plank Flooring is crafted from blacks and greys, making it an excellent choice for those who want to add a dark and moody vibe to their Hamptons design.
Dark Toned Hybrid Flooring To Help Your Hamptons Design Pop:
Finally, if you're after dark toned Hybrid Flooring to compliment Hamptons style, check out these three options:
Soleil Burnt Ember
Want flooring that offers a deep grey, almost charcoal aesthetic? Check out our Soleil Burnt Ember Hybrid Flooring. Ideal for offsetting the whites and natural wood tones that come with a Hamptons design, these floorboards are both versatile and waterproof.
Saranda Honey Oak
If you're after deep, warm toned Hybrid flooring, check out our Saranda Honey Oak Hybrid Planks. Sure to sweeten up any Hamptons style space these golden-brown floorboards are great for creating contrast.
Soleil Espresso
Feeling like your space needs a bit of a pick me up? Consider our Soleil Espresso Hybrid Flooring. The cool brown tones of these floorboards mimic those of your morning coffee and are sure to uplift your Hamptons vibe.
Keep in mind, while these are our top recommendations, that doesn't mean that they are the only flooring options you can install in a Hamptons style home. Your design should reflect your personality so if you want something completely different, go for it!
For further information on any of the flooring options outlined in this article, or to make a purchase, contact your local flooring specialist – they'll be happy to help.