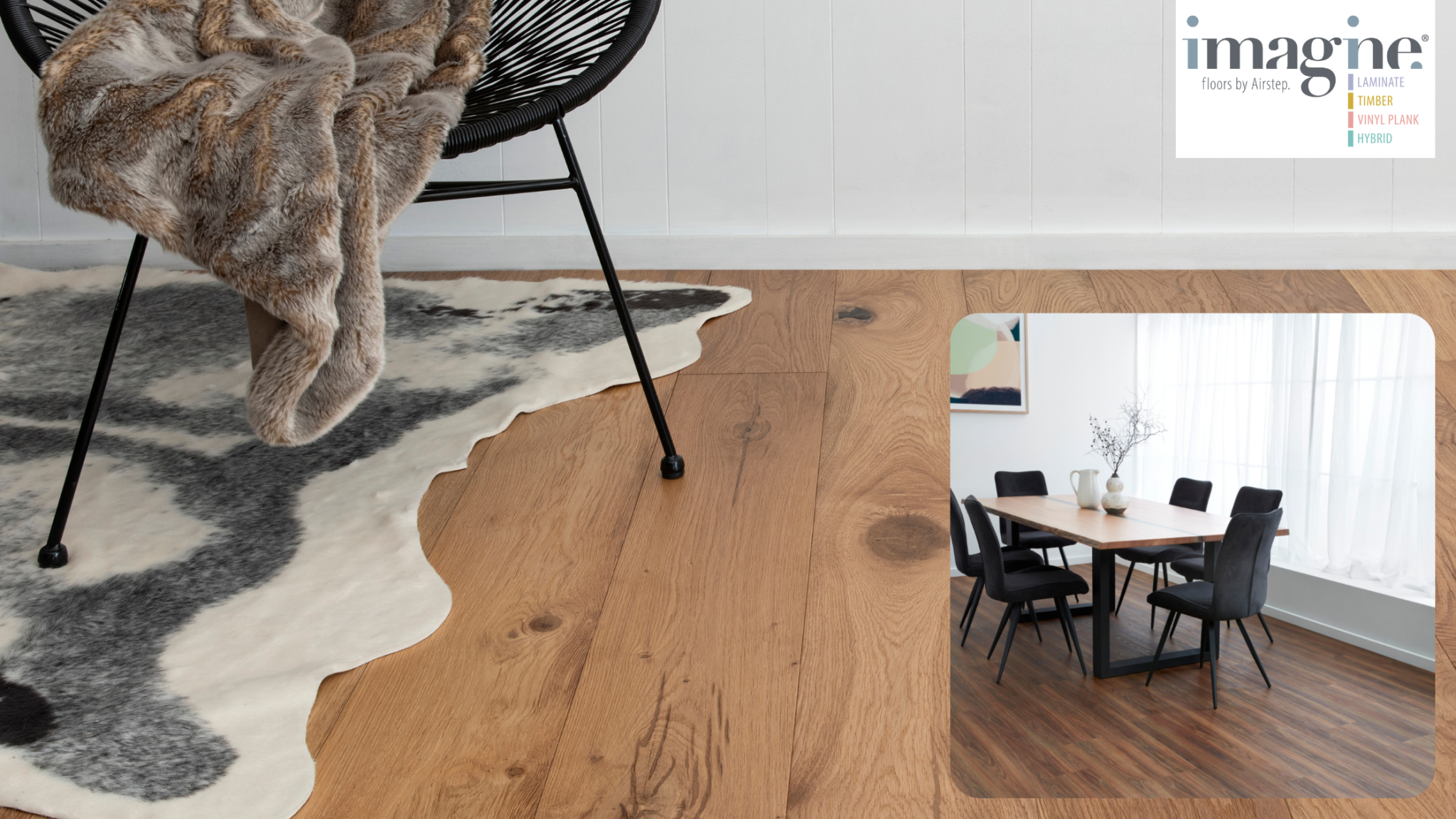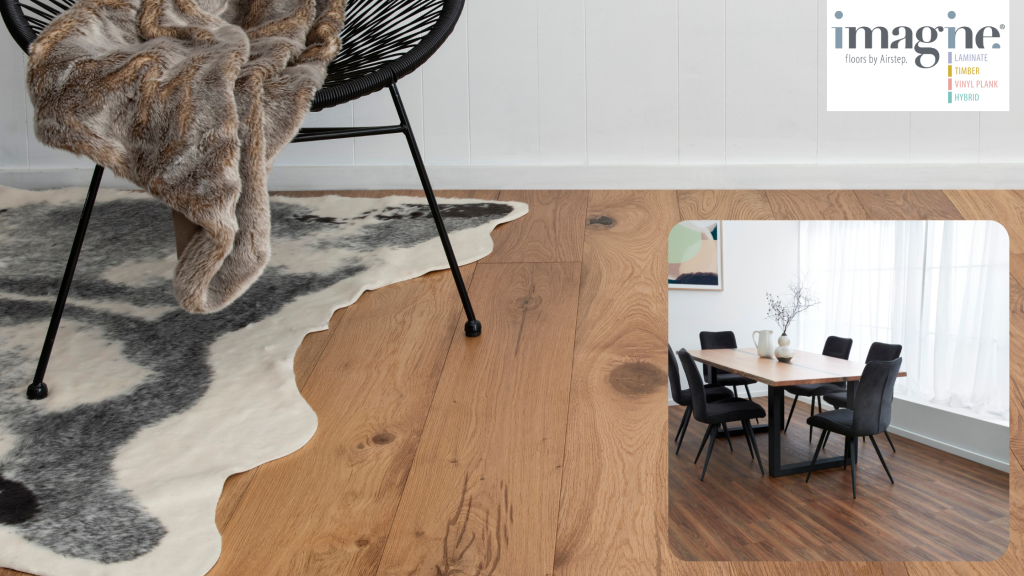 Timber Flooring adds a certain sense of warmth and luxury to a home, but vinyl plank floors offer waterproof versatility and a softer touch. Both are valid flooring choices, but each has their place in your space. Today we'll be exploring the differences (and similarities) between these two flooring options and looking at which is right for your home.
Both Engineered Timber Flooring and Vinyl Plank Flooring have their own unique advantages when it comes to installation in your home.

Engineered Timber Flooring, as noted above, is ideal for those who want a high class vibe within their space, and it is also a wonderfully sustainable option due to the fact that far more of the tree can be used when creating Engineered Timber Floorboards than is acceptable for full hardwood floors.

Vinyl Plank Flooring, on the other hand, offers a 100% waterproof guarantee as well as resistance to staining, fading and wear. This option is great for those who want a durable yet soft feel for their home as Vinyl Plank Floorboards feel quite gentle under foot.

Due to their vastly different traits, a direct comparison would not be overly useful, so instead, we're going to be looking at which is better for different types of interior design as well as in different areas of your home.
If, for example, you're a young professional who wishes to have an ultra-classy and luxe space, you would opt for Engineered Timber Floors throughout the majority of your home, and add tiles in wet areas. A young family who wants a nice and homely, yet practical space, on the other hand, would be better off considering laying Vinyl Plank Floors throughout their entire home.
Engineered Timber vs. Vinyl Plank Flooring – Design
First up we have design styles. Each interior styling has its own set of rules for the materials and colour scheme that should be used when crafting your design, so it makes sense that certain types of flooring will perform better in each category.
Boho Shabby Chic
In terms of Boho Shabby Chic styling, we tend to suggest the use of Vinyl Plank Flooring, purely as there are often more decor options available in this range. While genuine Timber Floors certainly work well with the whimsical vibes of this style, laying Vinyl Flooring allows you to get creative with colouring and build a more playful foundation for your space.
Hamptons
As Hamptons homes are inspired by coastal luxe vibes, we suggest the installation of light coloured, Engineered Timber Floorboards. When looking to create an upscale design, natural materials and genuine wood floors are best as they'll lend a feeling of authenticity to your style.
Country Chic
When looking to create a Country Chic home, you can use either Vinyl Plank Flooring or Engineered Timber Floors. Because this style is about soft pastels and a homely feel, you have the freedom to select whichever material fits best with your preferences. Having said that, it is important to note that Engineered Timber Flooring should not be used in wet areas, so if you're looking to install one type of flooring throughout your entire home, we suggest the use of Luxury Vinyl Planks.
Ultramodern
Ultramodern designs call for sleekness and functionality. For this reason, we suggest installing Vinyl Plank Floors within your home if this is the style you're after. Go for black or grey floorboards to really lean in to the style and don't forget to add some indoor plants and greenery to soften up the vibe.
Industrial
If industrial styling is on your wish list, we recommend the use of Engineered Timber Flooring. As this style calls for exposed brick, greyscale tones and metallic fixtures, the use of genuine wood floorboards can help bring a sense of warmth back into your space without ruining your aesthetic.
If you do choose to use Vinyl Plank Flooring, we suggest sticking to grey tones and considering the installation of wide plank floorboards to give your space that extra wow factor.
Engineered Timber vs. Vinyl Plank Flooring – Suitable Areas Within Your Home
We've created a fun infographic to help showcase the suitable areas within your home for both Vinyl Plank Floors and Engineered Timber Flooring, but if you'd prefer plain text, the information in the graphic is a condensed version of the next section so feel free to simply keep reading.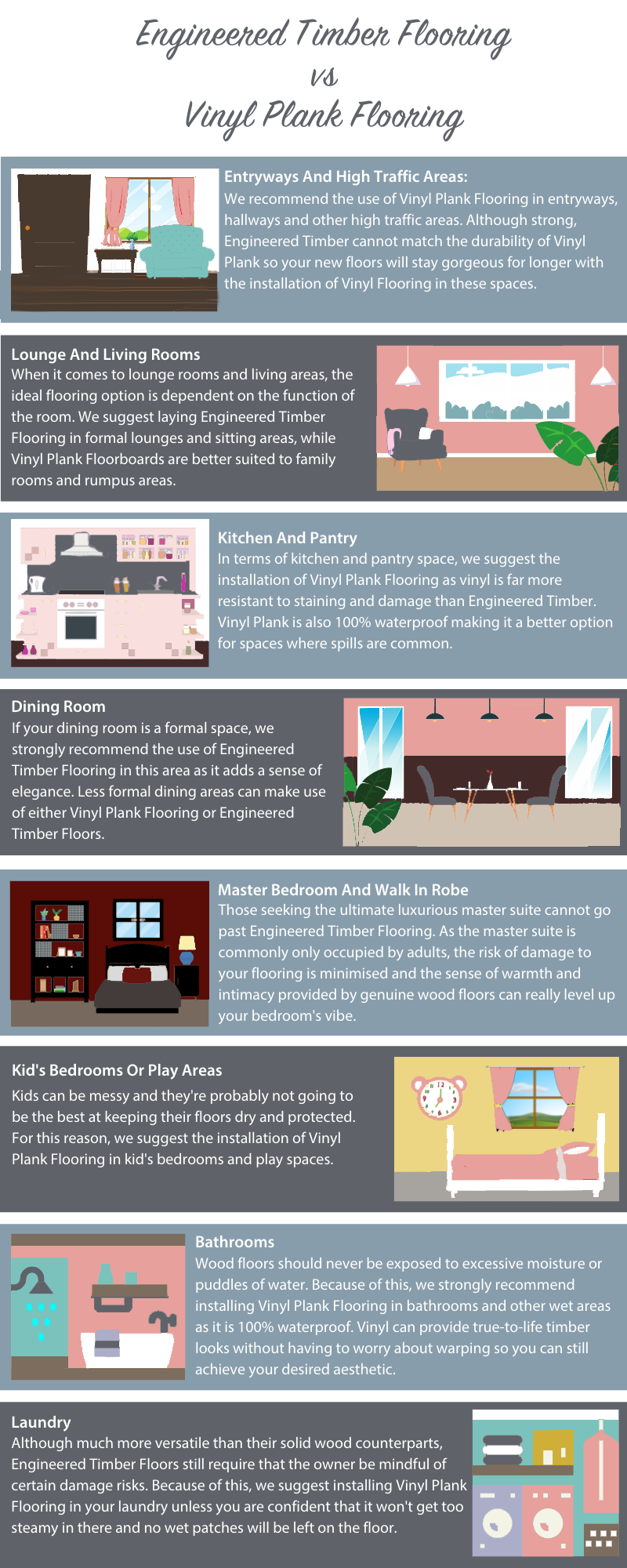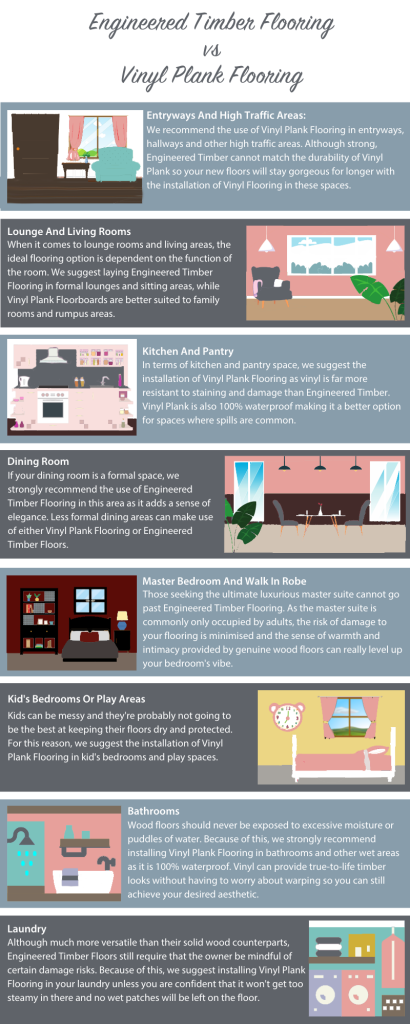 Entryways And High Traffic Areas
We recommend the use of Vinyl Plank Flooring in entryways, hallways, and other high traffic areas. This is due to their resistance to general wear and tear, fading and staining – all significant factors that will impact the lifespan of your floors in areas that see large amounts of foot traffic.
Although strong, Engineered Timber cannot match the durability of Vinyl Plank so your new floors will stay gorgeous for longer with the installation of Vinyl Flooring in these spaces.
Lounge And Living Rooms
When it comes to lounge rooms and living areas, the ideal flooring option is dependent on the function of the room.
We suggest laying Engineered Timber Flooring in formal lounges and sitting areas, as this type of floor will help enhance the elegance of your space thanks to the natural charm of authentic wood floors.
In comparison, Vinyl Plank Floorboards are better suited to family rooms and rumpus areas as accidental damage and spills are more likely in these areas so it is best to install a more robust floor.
Kitchen And Pantry
In terms of kitchen and pantry space, we suggest the installation of Vinyl Plank Flooring as vinyl is far more resistant to staining and damage than Engineered Timber. As noted above, Vinyl Plank is also 100% waterproof making it a better option for spaces where spills are common.
While it is certainly possible to install Engineered Timber Flooring in a kitchen, please be mindful that this will result in higher maintenance and care requirements as timber floorboards are not waterproof like Vinyl.
Dining Area
If your dining room is a formal space, we strongly recommend the use of Engineered Timber Flooring in this area. As noted above, timber floors add a sense of elegance and can help your dinner party feel a bit more luxe.
Less formal dining areas can make use of either Vinyl Plank Flooring or Engineered Timber Floors, however, if the little ones are prone to making a mess with their dinner, spills must be cleaned up straight away if wood flooring is installed.
Master Bedroom And Walk In Robe
Those seeking the ultimate luxurious master suite cannot go past Engineered Timber Flooring.
As the master suite is commonly only occupied by adults, the risk of damage to your flooring is minimised and the sense of warmth and intimacy provided by genuine wood floors can really level up your bedroom's vibe.
The exception to this would be if you would like to carry a single flooring option throughout the entire master suite (bedroom, walk in robe and ensuite) in which case we would suggest laying Vinyl Plank Flooring as wood and bathrooms really don't mix.
Kid's Bedrooms
Kids can be messy and they're probably not going to be the best at keeping their floors dry and protected. For this reason, we suggest the installation of Vinyl Plank Flooring in kid's bedrooms and play spaces.
As a general rule, if the room is regularly going to see rough play, spilt drinks or any other significant risk for accidental damage, always lay Vinyl Plank Floors rather than Engineered Timber Flooring.
Bathroom
Timber Floors should never be exposed to excessive moisture or puddles of water. Because of this, we strongly recommend installing Vinyl Plank Flooring in bathrooms and other wet areas.
As we're sure you're aware by now, Vinyl is 100% waterproof, an absolute must for bathroom floors, and it can also provide true-to-life timber looks without having to worry about warping so you can still achieve your desired aesthetic.
Laundry
Finally, although much more versatile than their solid wood counterparts, Engineered Timber Floors still require that the owner be mindful of certain damage risks. Because of this, we suggest installing Vinyl Plank Floors in your laundry unless you are confident that it won't get too steamy in there and no wet patches will be left on the floor.
If your dryer is not lifted off the ground, or you do not have proper ventilation in your laundry, please only ever select waterproof flooring to avoid damage or disappointment from the humidity.
So who wins the battle of Vinyl Plank Flooring vs Engineered Timber Floors? Well, it really does depend on your home and your style. Hopefully this article has helped you figure out which is best for you, but, as always, if you have any questions, please do not hesitate to reach out to your local flooring specialist.