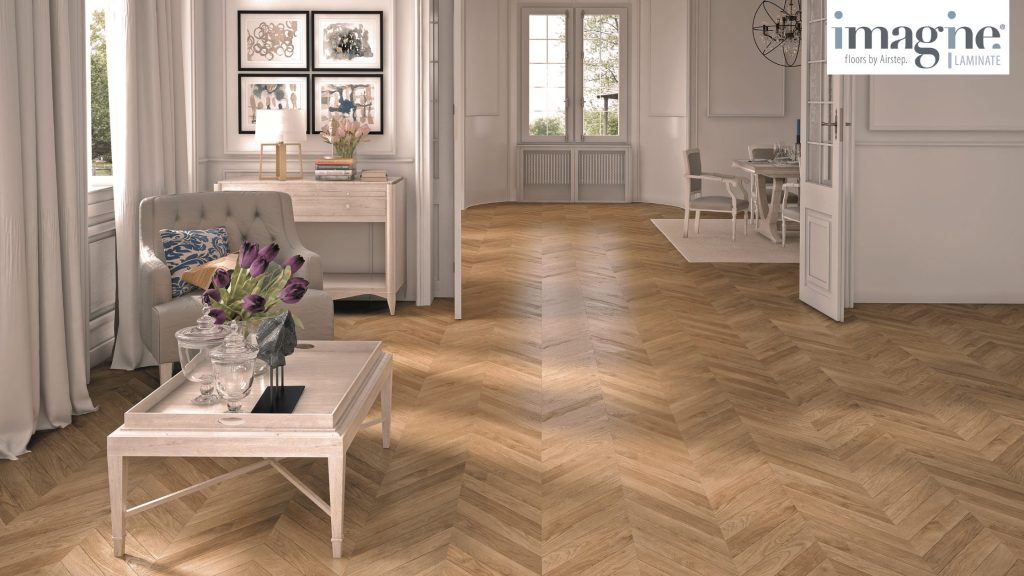 Bohemian styling is all about self-expression and having fun with your interior design. Unlike many styles, the rules are fairly relaxed, and you can create a space that is as eclectic as you please while still being able to call it boho.
Having said that, if you're after a "traditional" boho shabby chic design, there are certain conventions that will help you achieve the look.
Start With A Solid Foundation
As a surprise to precisely no-one, here at Imagine Floors by Airstep we believe that a room should be designed from the ground up. This is because your flooring is the foundation for everything that will go on top of and around it and it really does set the tone for your room.
When designing a boho shabby chic room we suggest laying chevron flooring. This style fits well with the free-spirited nature of the design you'll be crafting while also adding an element of interest and giving you an elegant base to build upon.
What Is Chevron Flooring?
For those confused by the above recommendation, here's a quick run down. Feel free to skip to the next section if you're already across this floor styling option.
Chevron flooring is a design that is inspired by classic European palaces of the 18th and 19th century. It features a diagonal décor which creates the appearance of multiple smaller boards joining at a point on your floor. This type of flooring radiates captivating charm and style and is ideal for boho shabby chic designs as it provides both timelessness and versatility.
What Are The Benefits Of Imagine Floors by Airstep Chevron Flooring?
Imagine Floors by Airstep Chevron Flooring is available within our Masterpieces range and features a lifetime residential warranty. Within this range we offer seven chevron options so you're sure to be able to find the perfect fit for your desired aesthetic.
All Imagine Floors by Airstep Chevron Flooring is crafted from high quality laminate meaning that you can enjoy all the benefits of this hard-wearing and easy to maintain flooring option while still achieving your desired look. These benefits include being wear, fade and stain resistant and our loc/snap installation technology.
Our Masterpieces range is crafted in Spain and features a 10 year commercial warranty in addition to the lifetime residential warranty.
Find Your Vintage Style
Vintage isn't for everyone, but it does play a significant role in styling most boho shabby chic spaces. If you can't stand the idea of incorporating multiple vintage pieces into your design, we suggest finding a single statement piece that you love and building your aesthetic to compliment it.
This could be as simple as antique leather armchair that you place by the fire to read in at night or as elaborate as a four-poster bed – whichever floats your boat. All that really matters is that you have at least one vintage element to bring in that old world charm that this style is known for.
Incorporate Nature
One of the main features of boho shabby chic interior designs is the use of natural materials and finishes. Raw wood design elements are generally the most common way in which people incorporate nature into their design process, but this can also be done with plants and greenery.
We're suckers for a lovely little snake plant placed right next to a softer plant such as a chain of hearts. This creates a juxtaposition that works perfectly with boho shabby chic style without clashing in an unpleasant manner.
You could even consider creating an indoor green wall as a statement feature or simply dotting plants around the room to tie your design together.
This also provides the added benefit of improving the air quality in your home which is a major health and wellbeing benefit.
Note: If you wish to take this approach with your flooring, why not consider our Reclaimed Wild Oak Engineered Timber Flooring collection? While we still prefer chevron for this type of style, the great thing about interior design is that it's all about expressing your personality within a room so if this is your preference, we're pleased to be able to provide a range of options.
Go For Curtains Rather Than Blinds
We've learnt a lot about other factors that impact your aesthetic in our mission to help our customers achieve their dream homes and one thing we can say for certainly in this situation is that curtains always far outperform blinds in terms of achieving that perfect boho look.
Curtains provide a much warmer and more inviting touch, and they are also far more customisable than blinds so you can tweak fabrics, colours and patterns to perfectly fit the look you're going for rather than simply selecting an off the rack blind.
Make A Statement With Your Bedhead
Another major design element within the boho shabby chic style is boldness. Items are often chosen because they are unapologetic and perfectly suit the designer's style. So, why not consider having a statement headboard? Bedheads are often overlooked when selecting statement pieces for a room as they tend to be fairly uniform in nature, but with a bit of creativity, you can really make this functional furniture stand out.
Consider matching it to your flooring if you want the lower portion of your room to flow upwards or add a selection of plants for that natural green touch.
Soft And Fluffy Is Your Friend
Speaking of your bed, your space is your sanctuary and no matter what style you're going for, a luxurious and comfortable bed will make your space a thousand times more inviting. Luckily, boho shabby chic design actually loves big, soft, over the top bedspreads. Go bright and bold with intricate designs and add as many pillows and cushions as you want – in fact, the more, the better!
Don't Be Afraid Of Clashes
Finally, it is important not to be afraid of clashing design elements. Boho shabby chic style is all about expressing your personality through your design and creating a free-spirited space. If elements have to "clash" in order to achieve this, then so be it. You obviously don't want major clashes that are jarring and make your room feel uncomfortable, but if you like a pairing in elements that would generally be advised against, do it anyway.
Want to create your own boho shabby chic dream home? Get in touch with one of our flooring experts today to discuss which chevron flooring option is right for you!