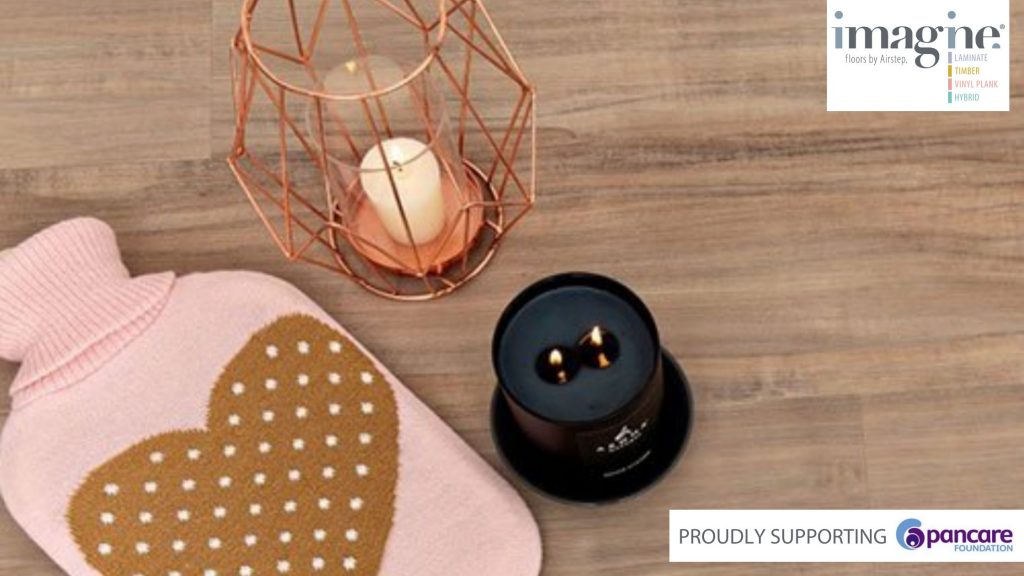 November is both Pancreatic Cancer Awareness Month and Stomach Cancer Awareness Month. And again this year, Imagine Floors by Airstep and Floorworld are partnering to help Pancare Foundation as they take on Australia's toughest cancers.
While this month is mostly about education (keep an eye on our socials for important updates that could literally save a life), we're also pleased to be able to raise funds for Pancare Foundation. You can donate directly via Pancare Foundation's website or by purchasing any Imagine Floors by Airstep flooring from your local Floorworld retailer.
How Did We Partner With Pancare Foundation?
Imagine Floors by Airstep are proud to be a part of Floorworld's campaign supporting Pancare and have participated in both years (2020 & 2021) that the program has run.
The Floorworld partnership has already surpassed all expectations thanks to the hard work and dedication of Floorworld CEO Bob Crotty, long-term Pancare Foundation supporter and Floorworld franchise owner Helen, Floorworld's leading supplier partners and the incredible franchise teams and staff that support these exceptional organisations.
To date, this collaboration has resulted in an incredible $54,000 going towards Pancare Foundation's patient support program and vital research.
Why Are Pancreatic And Stomach Cancer The World's Toughest?
Both pancreatic cancer and stomach cancer are notoriously hard to detect and diagnose. Although more than 4261 Australians will be diagnosed with pancreatic cancer this year (and nearly 2392 will receive a diagnosis of stomach cancer) this is often, unfortunately, only after the cancer has advanced. This places them in the category of low-survival cancers. However, by understanding these challenging diseases better, and learning about the signs and symptoms, we can hopefully improve survival rates and catch these cancers earlier.
Who Is Pancare Foundation?
Founded in 2011 by Dr. Mehrdad Nikfarjam, Pancare Foundation is a national charity committed to inspiring hope, raising awareness, supporting families and funding research for upper gastrointestinal (GI) cancers – pancreatic, liver, stomach, biliary and oesophageal cancers. Dr Mehrdad Nikfarjam, is a leading pancreatic, liver and biliary surgeon based in Melbourne who was frustrated by the issues face by Australians diagnosed with an upper GI cancer.
Pancare provide support for people living with cancer and their families from the point of diagnosis through to treatment and beyond through their PanSupport program. They also fund world-leading research to increase survival and improve treatment options.
PanSupport is Pancare Foundation's dedicated support, resource and information service available for all Australians affected by upper GI cancers. From coping with a diagnosis, understanding treatment options, managing symptoms to nurturing emotional health, their friendly team of dedicated specialists in upper GI cancer care offer practical ways to help support people living with cancer. All services are complimentary.
Pancare Foundation support medical cancer research that aims to accelerate advancement in early detection, new treatments, enhanced patient care and clinical trials that help improve outcomes for Australians impacted by upper gastrointestinal cancers. Pancare funds world-class research at some of Australia's most respected and innovative institutions.
What Are The Upper Gastrointestinal Organs?
Our upper gastrointestinal organs include the pancreas, liver and stomach.
These organs play a vital role in digesting food and fluid, processing nutrients, absorbing energy, regulating blood sugars and filtering waste before passing through to the lower gastrointestinal tract.
How Does Upper Gastrointestinal Cancer Manifest?
Upper gastrointestinal cancers are often known as silent cancers as they are hard to detect in their early stages. This is because they have vague symptoms and there are no early detection tests.
Unfortunately, this means that they are often only diagnosed in advanced stages and there are limited effective treatment options.
It is estimated that 12,400 Australians will be diagnosed with an upper GI cancer this year, and more than 8,600 will die. For context, that means that upper GI cancers will kill more Australians than breast cancer, prostate cancer and leukemia combined this year.
Additionally, the five-year survival rates for upper GI cancers are incredibly sobering. On average, 20% of people diagnosed with an upper GI cancer will survive five years. In comparison to the survival rates of breast and prostate cancer with 90% plus five-year survival rate or even bowel cancer with a 70% survival rate – there's much to be done to help improve outcomes for people diagnosed with an upper GI cancer.
Upper gastrointestinal cancers include pancreatic, liver, stomach, biliary and oesophageal cancer. These cancers are significantly underfunded when it comes to cancer research and supportive care services for patients and their families. Pancare is working to change this, and we are proud to be able to support them in this mission.
What Is Stomach Cancer?
Stomach or gastric cancer is a disease in which cancerous cells form in the lining of the stomach. This cancer grows deeper into the tissue layers.
There are often no symptoms of stomach cancer, particularly in the early stages. However, depending on where the cancer is within the stomach, certain signs may arise.
Symptoms (If Present) Of Stomach Cancer Include:
unexpected fatigue or weakness
nausea and vomiting
blood in vomit
indigestion
loss of appetite
low iron levels
abdominal pain or discomfort
unexplained weight loss
black stools.
To learn more about stomach cancer symptoms please visit: https://bit.ly/3EmuDrG
What Is Pancreatic Cancer?
Did you know that the pancreas is a large gland that lies behind the stomach in the back of the abdomen? It is closely surrounded by several large and important organs and blood vessels. The pancreas is about 15cm (6 inches) long and shaped a bit like a tadpole.
Its function is to produce enzymes which help break down food so that the body can absorb nutrients. It also produces hormones, including insulin, which helps to regulate the amount of sugar in the blood.
If the pancreas isn't working properly these important functions can be affected.
Pancreatic cancer occurs when abnormal cells in the pancreas grow out of control. Several types of growths (or "tumours") can occur in the pancreas. Some of these growths may be cancerous, while others may be non-cancerous. Cancerous tumours can occur on any part of the pancreas, including the head, body or tail of the organ.
Pancreatic cancer can be difficult to detect due to the location of the pancreas. Symptoms are often vague and can be similar to other medical conditions.
Symptoms (If Present) Of Pancreatic Cancer Include:
jaundice – yellowing of the skin and eyes
dark urine
pale, smelly and floating stools
loss of appetite
indigestion
nausea and vomiting after meals
gradually worsening upper abdominal or back pain
unexplained weight loss
worsening itching of the skin
new onset diabetes
For more information about pancreatic cancer symptoms please visit: https://bit.ly/3nyT9Ab
All information within this article is sourced from Pancare Foundation who also graciously provided the graphics used. Imagine Floors by Airstep is proud to partner with this wonderful foundation and are dedicated to assisting in their mission.
For more information on Pancare please visit https://bit.ly/312A1hx to learn more about Pancare, You can also visit this link to find out about how you can get involved and help accelerate change.