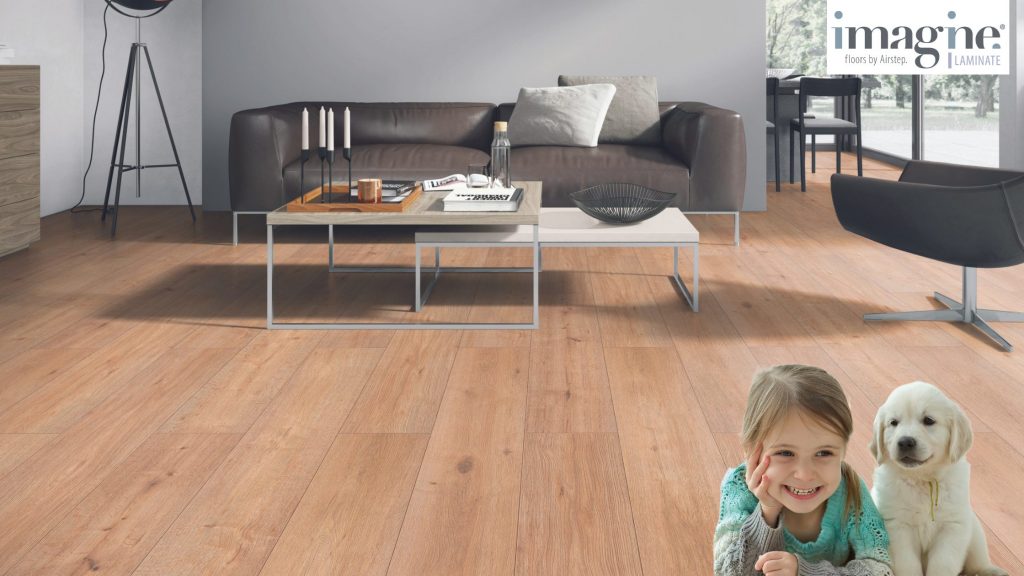 Human-Animal Relationship Awareness Week starts today and with the world the way it is at the moment, we felt it was more important that ever to celebrate our furry little friends. That's why today we're shining the spotlight on the most pet friendly flooring option on the market – laminate.
Gone are the days when laminate meant cheap and nasty sheets that provided no aesthetic benefit to your home – this material has made major advancements in both quality and design – and with the perk of being one of the strongest options on the market, it really is hard to beat.
So, snuggle up on the sofa with your furry friend and learn more about this strong, yet beautiful, flooring option.
Why Is It Important To Have Pet Friendly Flooring?
As much as we love the smallest, furriest members of our families, they can, unfortunately, cause pretty significant damage to flooring overtime. Anyone who has ever had their kitty get ready for a nap in their lap, or played with an overexcited puppy, knows exactly how sharp their little claws can be and our floors need to be tough enough to handle this wear.
By much the same token, while we can look past that mess in the hallway, flooring that isn't stain resistant may not be able to – even if you catch and clean up Fido's puddle pretty much straight away. We know it isn't their fault, but that doesn't mean we'll be any less sad when what were once lovely floors now have a slightly yellow tinge…
Why Is Laminate The Best Pet Friendly Flooring?
Laminate flooring is both hard-wearing and easy to maintain, making it ideal for those who have four legged friends running around their home.
A natural resistance to scratches helps combat the damage left on less resilient floors by little claws and with an additional resistance to staining, it can also easily stand up to toilet training a new puppy or kitten, so you don't have to worry about those puddles lingering.
In fact, laminate flooring is so resilient that the minimum domestic warranty you will receive on any of our ranges is 15 years, with our Eucalyptus Steps XL and Extravagant Dynamic XXL ranges boasting 20 year domestic warranties and our chevron and herringbone flooring featuring a lifetime warranty when installed within your home.  
Imagine Floors by Airstep Laminate Flooring is also low VOC meaning it won't release harmful organic compounds into your home – a vital feature in flooring for homes with pets, as their little bodies are more susceptible to issues from VOCs than the bodies of humans. This is even more important when we consider the fact that damaged flooring is more likely to release VOCs so you're protecting your family in two ways by installing pet friendly laminate.
How Is Laminate Flooring Made?
Imagine Floors by Airstep Laminate Flooring is constructed from High Density Fibre Board (HDF).
This recyclable material is incredibly hardy and will easily withstand the test of time while also being eco-friendly due to our sustainable and environmentally responsible manufacturing processes.
Once assembled, the design and wear layers are applied to our laminate floorboards and then they're packaged up and sent to your local retailer.
What Types Of Pet Friendly Laminate Are Available?
At Imagine Floors by Airstep we offer four distinct types of laminate flooring.
Within these four varieties, we feature 44 décor designs ranging from our lightest options Snow Gum and Darwin, through to our deepest tones Anthracite Oak and Cask Oak. Eight of these options fall under our Masterpieces range which caters to those who would prefer a chevron or herringbone finish range than a standard board design.
Please Note: Bushlane and Bushlane XL are exclusive to Flooring Xtra.
So, now you and Fido know how to protect your floor from his claws, you can learn more and see samples of our floors by visiting our store locator to find your local retailer.