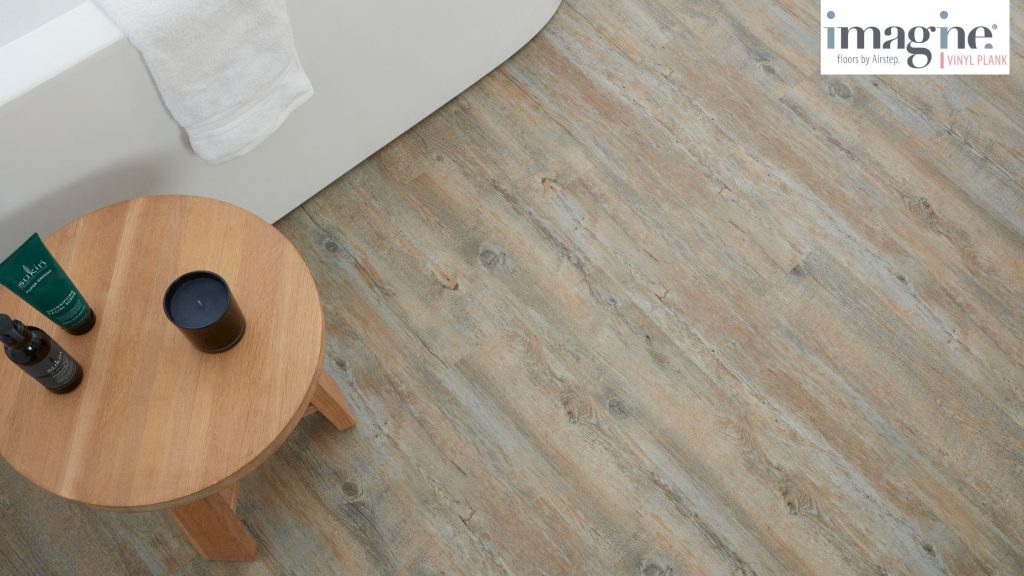 When people think of vinyl flooring, their mind tends to wander to the cheap and nasty linoleum of years gone by. That's why today we're setting the record straight about what vinyl flooring actually is, and how installing it in your home can benefit you.
What Is Vinyl Flooring
There are three main types of vinyl flooring – vinyl plank, vinyl tiles, and vinyl sheet.
Here at Imagine Floors by Airstep we craft top quality, luxury vinyl plank flooring.
Vinyl Plank Flooring mimics floorboards and provides a stylish, yet durable, finish for your floors. It is also the type of vinyl flooring that we'll be focusing on in the benefits section further down in this blog.
Vinyl Tiles:
Like vinyl plank flooring but in tile form. This style offers a different shape and collection of design options.
Vinyl Sheet Flooring:
Vinyl sheet flooring is simply a large sheet of vinyl that can be used as a waterproof floor covering. Perhaps where the association with linoleum originates, this type of vinyl flooring cannot provide the same luxurious look and feel as vinyl plank flooring does.
What Is Vinyl Flooring Made From?
Crafted mainly from PVC, vinyl flooring combines a strong core with decorative and wear layers.
Imagine Floors by Airstep Vinyl Plank Flooring is crafted using sustainable processes and our design options include over 30 decors to choose from. Our Naturale Plank 3.0 and Naturale Plank 5.0 ranges feature a 0.5mm wear layer, while the Oatlands collection has a 0.3mm wear layer.
All Imagine Floors by Airstep Vinyl Plank Flooring feature a PU coating to increase durability.
What Are The Benefits Of Vinyl Plank Flooring?
Provides A Warmer, Softer Touch
Due to the way it is crafted, our vinyl plank flooring provides a warmer, softer finish to your home.
Although this is mainly in regard to the feel of your flooring, you can also add warmth to a space by selecting a décor with warm tones or make your room feel softer and cosier by selecting a muted design.
Durable Flooring Option
Although laminate is generally recognized as the strongest option on the market, vinyl plank flooring is a durable and versatile option. It also offers different benefits in terms of durability, so it is important to do your research to see which type of flooring is best for your situation.
100% Waterproof
All Imagine Floors by Airstep Luxury Vinyl Plank flooring is 100% waterproof.
This makes it ideal for wet areas and helps protect your flooring against any spills or accidents that may arise.
Resistant To Staining
There's nothing worse than having your beautifully finished floors stained not long after installation is completed. That's why our vinyl plank flooring is stain resistant to help prevent this type of heartache.
Phthalate Free
Phthalates are nasty and can cause some pretty bad effects on our bodies. While it's not possible to completely avoid these chemical compounds, anything that reduces exposure is beneficial to your health – that's why we don't include them in any of our flooring options.
Low Allergenic
Some flooring options can cause havoc for those with allergies. This is due to both how they're made, and the debris that they're prone to trapping in your home. Imagine Floors by Airstep is proud to be able to label our flooring options as low allergenic – meaning that they're much kinder to you and your family.
True To Life Detail
Another great perk of vinyl flooring is that it provides the beautiful, luxurious aesthetic of genuine hardwood floors without the risks associated with having timber flooring. This is great for when you want that high end designer aesthetic but don't want to worry about whether your floors are going to warp when the season changes.
Eco-Friendly
All Imagine Floors by Airstep Luxury Vinyl Plank Flooring is crafted using sustainable practices.
Additionally, our Naturale Plank 3.0 and Naturale Plank 5.0 collections are 100% recyclable and manufactured with bio-based plasticisers.
Compatible With Under Floor Heating
Another great perk of our vinyl flooring is that it is compatible with under floor heating meaning you can crack the temperature up to 27° without a care in the world. *
*Note, this information is in regard to Imagine Floors by Airstep Luxury Vinyl Plank Flooring only. If you are considering a different brand, you must ensure that you check whether your flooring is compliant and safe for use with under floor heating.
Great Value For Money
Genuine timber flooring is expensive. Admittedly, this is justifiably so due to the resources and craftsmanship that go into creating hardwood floors but if all you're after is the look – rather than the actual wood finish – vinyl plank flooring offers exceptional value for money.
Where Can Vinyl Flooring Be Installed?
Because it is 100% waterproof, our vinyl plank flooring is suitable for use in any room of your home – including wet areas such as the laundry, kitchen and bathroom (excluding shower bases).
When installing your vinyl flooring in wet areas, it is particularly important to ensure that the process is carried out correctly to ensure that no moisture can get between the planks and reduce or negate the waterproof nature of this floorcovering.
How Long Can I Expect My Vinyl Flooring To Last?
While this is kind of like asking how long a piece of string is, when cared for properly, you can expect your vinyl floors to last for years to come.
All Imagine Floors by Airstep Vinyl Plank Flooring has a Class Rating of 23, put simply, this means that they are rated to withstand heavy residential traffic.
Our Naturale Plank 3.0 and Naturale Plank 5.0 collections offer a 25 year domestic warranty and our Oatlands range features a 20 year domestic warranty.
How Is Vinyl Flooring Installed?
Imagine Floors by Airstep Vinyl flooring is designed to be glued down. We recommend that this is done by a qualified installer due to the preparation work required to ensure that your planks are laid correctly and stick properly.
Experienced DIYers may wish to undertake this project themselves, however, incorrect installation can lead to lowered durability and may negate the waterproof nature of this flooring. In some cases, your warranty may also become void if your vinyl plank flooring is installed incorrectly and not adhering to the installation instructions.
How Do You Clean Vinyl Flooring?
Imagine Floors by Airstep Vinyl Flooring can be cleaned with a pH neutral cleaning detergent.
We recommend checking the care and maintenance guide for any flooring that you purchase for specific cleaning instructions.


Are There Any Drawbacks To Vinyl Floors?
Because it has to be glued down, vinyl flooring finds itself on the harder end of the DIY scale. While this is achievable for the more experienced renovator, those looking for an easy DIY flooring fix should probably turn their attention to options such as Hybrid or Engineered Timber Flooring.
Those with pets who have sharp claws may also wish to consider a more pet friendly alternative such as Laminate.
So, you hopefully now have a far better understanding of what vinyl flooring is. If you have any further questions, head down to your local Imagine Floors retailer for guidance and expert advice.