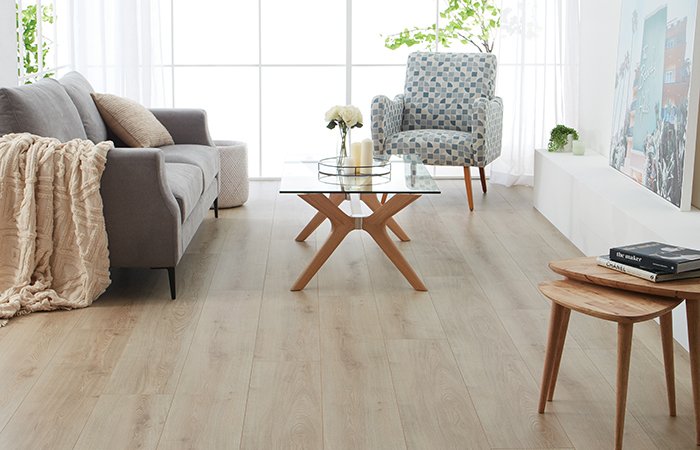 The look of hardwood flooring coupled with a tough finish – without the high cost. These are some of the many benefits of choosing our laminate for your flooring needs.
True-to-life detail
When compared with other flooring surfaces our laminate ranges feature a richness of look-alike designs that strikingly resemble hardwood flooring but at a more affordable price. Our designs include the looks of popular oak species and also Australian species which were the design inspiration for our Eucalyptus Steps range.
Durability and Easy Installation
Our laminates are also durable and easier to maintain than many of the flooring materials they replicate. The highly durable wear layer, such as the AC4 Wear Layer used for our Extravagant Dynamic XXL range, offers superior resistance against daily wear, and scratches caused by pet's claws.
Our laminate flooring ranges have also been designed with ease-of-installation in mind. They can be floated over a variety of subfloors, including concrete, and some can even be installed over floor heating systems, Our floors include the latest locking technology, as seen with our Solido Vison range, which makes installation easy, especially for DIYers.
Realistic Touch
To produce the most realistic looks, some of our ranges include a technique known as embossed in register (EIR). EIR uses an embossing tool to push the paper surface forward, producing a raised image that adds improved depth and texture to the laminate surface. Embossing can also be used to replicate distressing techniques to create a natural look, which is commonly found in real woods and is demonstrated in our Masterpieces range.
Warranties
Our laminate flooring warranties for residential use range from 15 years to a Lifetime Warranty for your piece-of-mind and enjoyment. Commercial warranties are also available. For full warranty coverage, make sure to follow our Installation Instructions, and our Cleaning & Care and Maintenance Instructions.
Find Out More
Want to find out more about our laminate flooring? Click here to find your nearest stockist.