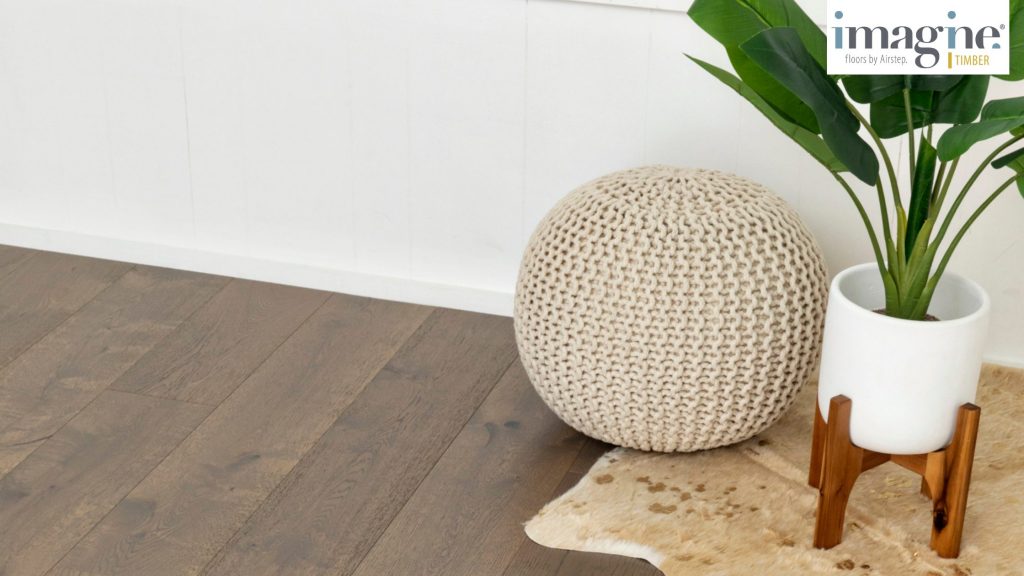 One of the most frequent questions we get asked is "What is engineered timber flooring?" so today we're laying out the details of this wonderful flooring option.
The Short Answer:
Engineered Timber Flooring is simply a floorboard that features a hardwood timber only on the top layer. Imagine Engineered Timber Floors feature a 3mm solid oak wear layer and a multi-ply Eucalyptus core. This allows the product to be stronger and more versatile than full hardwood floors while also slashing the price and environmental impact of the product. It's why we refer to our engineered timber floorboards as the designer look without the exclusive price tag.
How Does Engineered Timber Flooring Differ From Traditional Hardwood?
The main difference between traditional hardwood and engineered timber flooring is that the former is a solid piece of wood while the latter is crafted from a top layer of hardwood with a specially designed lower.
The second largest difference between the two is that installation of solid hardwood is quite involved, and the process can take up to six weeks once acclimatisation (often referred to as seasoning), sanding and polishing is considered. On the other hand, engineered timber flooring can be installed in as little as a day, as no on-site treatment is required, and floating floor installation is a significantly faster process.
Engineered timber flooring is also far more stable than its entirely wood counterpart as it is less prone to movement, expansion/contraction, and other moisture related issues. This translates to lower maintenance requirements and less chance of severe damage to your floors from general climate fluctuations.
The final major difference between the two is price, with engineered timber floors coming in at a significantly more economical total than full hardwood. This is mainly to do with the materials used but installation can also be a decent blow to the wallet for hardwood flooring.
What Are The Environmental Considerations?
Because only the top layer of this type of flooring is hardwood, engineered timber flooring is far kinder for the environment than traditional hardwood making it a wonderful eco-conscious choice for those who want the luxury of timber flooring without the guilt that can sometimes be associated with full hardwood. This is because all portions of the tree can be used in the manufacturing process as off-cuts and sawdust can be utilised in the lower layer.
Less waste = less trees being cut down.
Imagine Floors by Airstep engineered timber flooring takes this a step further by only crafting our engineered floorboards from reclaimed wild oak and sustainably sourced eucalyptus. Not only does this help protect our environment, but it also creates stunning flooring that is as unique as you are and has plenty of character and charm.
What Design Options Does Engineered Timber Flooring Provide?
As a general rule, any wood that can be turned into a hardwood floor can also be crafted into an engineered timber floor. As noted above, Imagine Floors currently feature a Reclaimed European Oak range as this is what we have found to be most eco-friendly for the planet and cost-effective for consumers, however, we are always researching ways to provide the best flooring options.
How Is Engineered Timber Flooring Installed?
As touched upon earlier, engineered timber flooring can be installed in much the same manner as products such as vinyl, laminate, or hybrid flooring.
All engineered timber floors by Imagine feature our patented Click technology making installation an effortless process. Simply lay your underlay, connect your floorboards to each other and add any scotia/skirting or stair nosing that may be required.
What Kind Of Warranty Is Available?
Warranty offerings will vary depending on the brand of your flooring.
All Imagine engineered timber flooring comes with a Lifetime Structural Warranty and 20 Year Residential Coating Warranty.
If you have any further questions, please do not hesitate to contact our friendly customer support team. We love helping you imagine the possibilities and are always happy to provide information and advice.