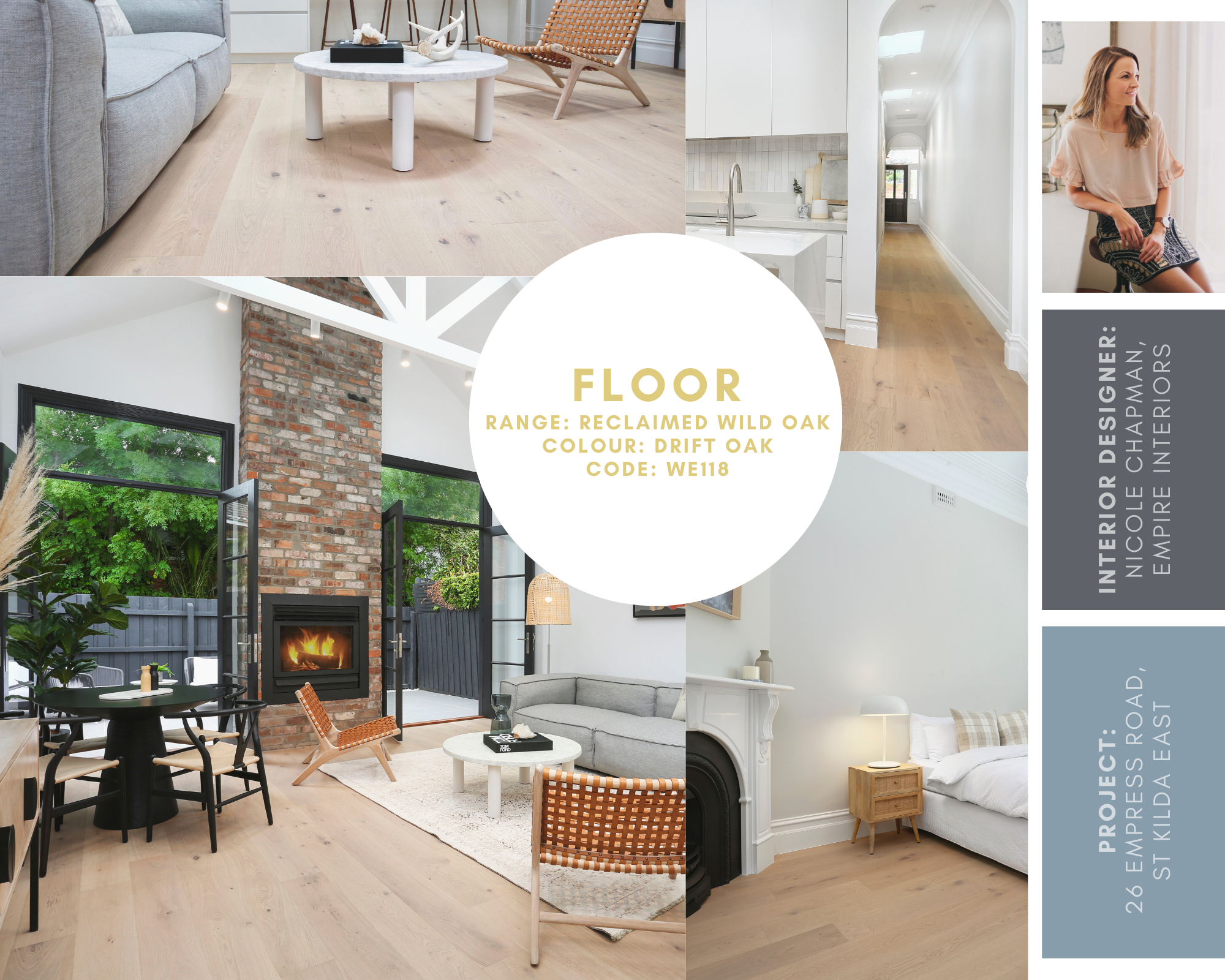 We recently caught up with Nicole Chapman, who is the director of Melbourne based design studio Empire Interiors, to discuss her St Kilda East project which showcased our floors. This beautiful home renovation has caught the attention of many and was filmed for 9Life Open Homes Australia television show.
Nicole used our stunning Reclaimed Wild Oak Engineered Timber floors in colour Drift Oak to achieve her desired look, and we learn more about her design process below.
Tell us about the 26 Empress Road, St Kilda project and what inspired you to complete this.
My partner Ben and I went out one day to grab a burger and came back with a house. We bookmarked the property online but forgot all about it and on the day of the open it popped up in my calendar and we were coincidentally having lunch only a few hundred metres away so we popped in for a look. That was on a Saturday and by Monday it was ours. We loved the heritage features of the home such as Edwardian façade, high ceilings and large bedrooms. I really tried to maintain those features throughout whilst bringing the home into the 21st century.
Why did you choose Imagine Floors by Airstep flooring?
I really wanted a light oak, wide board floor that was the perfect balance of warm and washed. As soon as I saw the Drift Oak I knew it was the ideal colour, width and texture. The flooring is such a big decision so when you find that perfect finish it is such a great moment.
What was your reaction once you saw the floors installed?
I always say the moment the floors are laid in a project, it transforms from a job site into a home. I just walked around in silence with a smile on my face taking it all in. The floors actually turned out even better than I had imagined in my mind so I was very happy.
What's your favourite look/room in the home?
By far my favourite space in the home is the master bedroom. We uncovered a solid brick wall during demo and decided to preserve it by added a textured paint finish in a soft putty grey. The combination of the brick and the oak flooring is just such a nice moment. It is very authentic in its materiality and feels very calming.
What do you think will be the big design trends for 2020 and beyond?
I think the use of natural, authentic materials will begin to be highlighted in design. The importance of longevity and timelessness in materials has become more and more important to the consumer market. The use of oak, natural stones and organic linens is where I see the future of design.
How do you begin the design process and when do the floors come into play?
You really have to begin with the flooring. It is the element that links everything else together so for me, it is probably the most important decision to marry really early in the design process.
What is the number one tip you would you give someone beginning their style journey for their own home?
Play with all of the different looks you like online through resources such as Pinterest before finalising your final style. It is natural to be drawn to a varying number of styles so committing to one, whist sometime difficult, is really important. Once you finalise the look/feel you are most drawn to create a digital moodboard and have it on your phone. You can refer back to it when your out shopping for furniture or flooring etc. to ensure you are making the right choices along the way.
View this property feature and our floors on Open Homes Australia here.
To learn more about this flooring, click here.